Discussion Starter
·
#1
·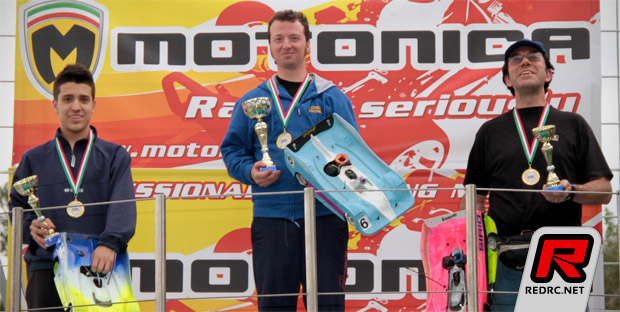 The Road Race track in Riccione last weekend hosted the Italian AMSCI Championship for Classic 1/8th scale category. After a nice sunny Saturday of free practice, the 4 qualification heats of 7 minutes on Sunday morning begin under a cloudy sky but still run under dry weather conditions. At the end of the morning the pole position was taken by Muccini for the under 16 category, by Betankova for the over 40 category and for the 1/8 classic the 4 direct finalist were Giordano Simone (25 laps 7.08.312) followed by Gaggiola Paolo (25 laps 7.08.605) Burato Enrico (25 laps 7.12.486) and Ometto Nicola (25 laps 7.13.032).
In the afternoon, right before the B semifinal it started to rain so the semifinals were held on a wet track and the main final itself was open to any possible result due to the very unstable weather. In fact, right at the beginning of the final the favorites had some difficulties and lose some positions leaving the top spot to Manuel Tordi and Pignotti who seem to have found the best combination between tires and set up and that will fight for the lead for the following 45 minutes. Around the 40th minute Pignotti goes of track and Tordi takes 2 laps of advantage thus managing to keep the lead until the end of the race and become the Italian AMSCI Champion of Classic Category 1/8 scale on road with the P8C Extreme by Motonica.
Source: Marzio Pangrazi
More...