Discussion Starter
·
#1
·
Okay, so we were cruising Cragslist, looking for open Yard Sales since I had the day off. Only found one that started today, so we went to go take a look. That was a bust. Apparently they had closed up shop just before we got there.
I wasn't going to drive into town for nothing, so I dragged my wife to a couple of stores that I don't get to go to very often. Went to Fred's...didn't find anything I thought I could afford. (Don't have a lot of cash on hand, dontcha know.) Then hit Pit Road Racing and spent as much as anything I could've picked up at Fred's. Oh well, that's sometimes the way it works.
The downside is that my boy has the camera in Chicago. So you'll have to just deal with pics I found on the web.
Nabbed an older release Cougar:
And Robot B-9 (mine has Clip #27, if that makes a difference):
Both of them I've passed up before, but it bugged me until I finally went back after it. In fact, my son also almost bought it once. The shop owner told me that he had only recently put it back out on the shelf, someone had asked him to hold it but never came back for it. It cost a buck.
After that, I dragged her to the Thrift Store another town over. I may be getting out of the Hot Wheels and Matchbox game, but I still love to dig through boxes of loose toys. I nabbed another police helicopter, but I can't find a brand on it. It's about the quality and style of an older matchbox. Maybe once my son gets back with the camera, I can get you a pic.
In the same bin was this one: Slikt Back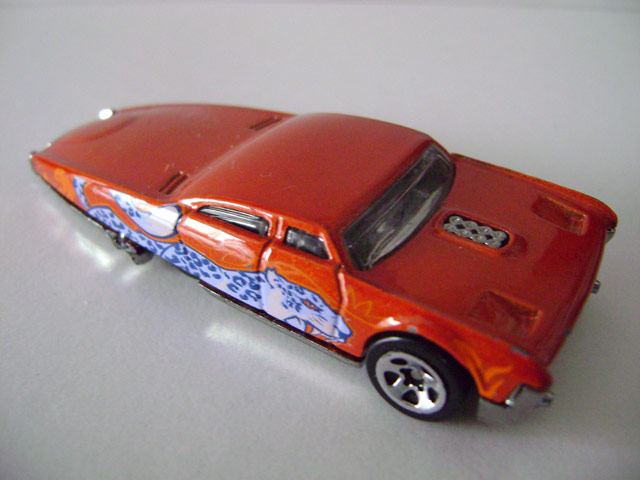 I just love the color and the leopard tampos.
Then I grabbed this Pro Stock Firebird:
Another big cat tampo. I think I'm stuck on cougars for some reason...
I just couldn't leave Dog Fighter behind when I saw it:
Finally, this fellow:
Not in the box, of course, and without the driver or the weapons. I didn't know it had weapons until I went to find this pic. I'm kind of disappointed now. It's still a cool truck, worthy of it's own thread (once I have a camera again).