Discussion Starter
·
#1
·
I have been lurking around for a few weeks and thoughtit was about time to introduce myself. Sees like a nice bunch of folks around here.
Anyway I have never really been into slot cars except a little when I was a kid. My sone had a cheap life like track that I decided to build a table for and know it has turned into a great father - son project. He is only seven but I am trying to involve hime in just about every phase that I can. We are having a blast.
My first attempt was this layout. but after 1 1/2 months of some real trouble areas where the track just wold not line up and the elevations seem to cause problems for the kids. We decided to tear it down and rethink our layout.
This is our new layout that we are waiting for the rest of the track peices to arrive in the mail. I am hoping that it may be a little easier for the littel ones. I used the 12 and 15 inch turns to help with it. He really likes how the x-traction and t-jets slide around that is the reason wiggle in the middle. Not the most technical course but should be a lot of fun for the family.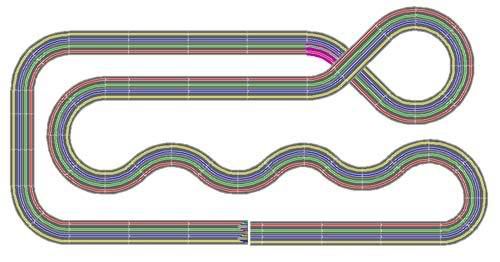 One of the things I wanted to add to it this time was some kind of sound barrier to quite down things. the Homasote was proving difficult to find so I came across SilentStep at home depot. it is an underlayment for lamenent flooring it is about 1/8 in thinkness and covers 50 sq feet for $34.00. then I covered that with woodland senics vinyl grass mat. We plan to landscape as time goes by.
I will keep you posted on the progress. :wave:
Brian