Discussion Starter
·
#1
·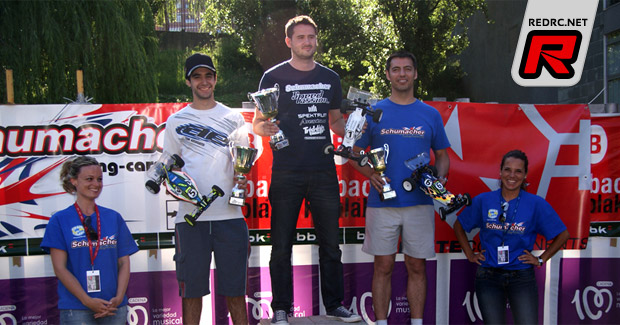 The weekend before last top UK Schumacher Team driver Lloyd Storey traveled over to Bilbao in Spain to compete in round 3 of the 2wd Spanish nationals. The track was the same layout as used at the 2009 Euros, but this time running in the opposite direction and was high grip and bumpy with some difficult jump sections to test the drivers. The format was 8 rounds of controlled practice on Saturday and 5 rounds of qualifying, followed by 3 legged A finals on Sunday. The weather forecast leading up to the event was warm and dry, and didn't disappoint.
After the first round of practice on Saturday, Lloyd was off the pace a bit and ended up 8th overall.* After getting used to difficult track he managed to climb his way up the field by taking the top spot in 4 out of the 8 rounds of practice. Moving onto qualifying the next day, after 5 rounds, Lloyd managed to take overall TQ and pole position for the A finals. Lloyd was also joined in the A final by 3 other fellow Schumacher SV2 runners.
Lloyd went on to win all three legs of the 7 minute A finals with his Speed Passion powered Cougar SV2, followed by Carlos Pineda in 2nd, and Enrique Fuciños in 3rd with his SV2. A perfect weekend for Lloyd at his first Spanish national. Also a great drive by Enrique Fuciños to finish 3rd overall which leaves him in joint first place in the championship with one round to go.
Source: Schumacher [racing-cars.com]
More...