Discussion Starter
•
#1
•
Dear Matchbox Friends and Lovers,
I am sorry for bringing out the first report so late but that had to do with my scheduled visit on 10 through 17 September at the Mattel Offices in El Segundo in order to visit the Design Center and get acquainted with the Matchbox Design Group.
Then it took some time to get an agreement of the form we will inform you in the future. This last point has been solved out for the time being.
Before I visited the Matchbox Group I prepared, after consulting a number of collectors, a PowerPoint presentation in (see Attachment 1 at the bottom of this page), which I showed in separate sessions to the following departments:
1. Engineering Team
2. USA Matchbox Marketing Department
3.
International Matchbox Marketing Department.
It's important to take notice of the fact that this is my personal opinion and that nothing out of this presentation shows the opinions, approvals, disapprovals or views of Mattel.
The following is a report of my visit and activities during this week.
My first day started with a visit to the Design Center. Before entering this center you have to agree on all kind of 'funny' procedure of not making pictures, not publishing what you have seen, not talking with anyone about it, signing non-disclosure forms etc.
So you will find in this visiting report only information of what I experienced during my visit to the Design Center relating to Matchbox Models or strategies, which has been sanctioned by Mattel.
The entrance was already impressive as they showed a huge selection of a known Mattel die cast brand (forgot the name, funny name like warm wheels or something similar). They even have some of their very sophisticated models in a 1:4 scale!
Entering the center after a long walk along a huge Barbie development department we came into the Matchbox section.
I saw a great world of Matchbox Toys. Wherever you looked you see Matchbox. In all cubical (that's an American 2 by 2 meter 'office' surrounded by 3 walls and an entrance), new models, old models, model to be developed, work drawings, production samples, advertising material, in short a kind of heaven on earth. The only difference with heaven on earth is that you are not allowed to make pictures or notes.
I met with most of the designers. And I should say I am impressed with what I saw. Not only with the result of their design being nice models to collect, but also with the professional approach of the designers on how to develop a model from an idea into a Production Sample before the final step of shipping it to the market.
Some of my impressions I am allowed to share with you are:
Working Rigs
This is what Terry Ozima wrote in his last Ambassador's report:
Real Working Rigs have also been selling extremely well, and there are going to be loads of new castings next year. For 2010 we will be seeing:
• Generic Tractor
• DAF Skip Truck
• Abrams M1A1
• Pierce Velocity platform Fire Truck
• JCB 726 articulated Dump Truck
• Oshkosh MPT Snow Plow
• Colet C30 Jaguar Airport Fire Truck
• a Combine (license TBD).
The Mobile Crane was to appear for 2009, but got moved to 2010.
I could convince myself the the line will be expanded further with new exciting models like new Trucks (look out for the one with a detachable plow), Fire Machines and a Battle Tank. I agree with Terry they are awesome.
Super Convoy
The line will be extended with some very nice looking Convoys. They look much better than the first wave of 4. So give the line a reconsideration. This will give the designers the time to develop a line with an own face. According to Matchbox the scale of the Super Convoys fits the other models in the line better. However I told the designers that the Matchbox Collector is not a scale freak. A model should fit a Matchbox!
MB75 Basic Range
This is what Terry Ozima wrote in his last Ambassador's report:
Licenses
• Honda Insight
• Holden SSV Ute
• Fisker Karma
• Caterham 7 R500
• Volvo P1800
• Porsche 914
• Rolls Royce Phantom
• '57 GMC Pick Up
• 1940s Willys Jeep (open top)
• 2010 Ford F150 Raptor
• 1980s Toyota 4Runner
• Pierce Impel Aerial Ladder Truck
• Ford Transit Connect
• Yamaha Rhino
Generics
• Road Roller
• Skid Steer vehicle
• Desert style trophy truck
• Small Truggy vehicle (like a mini MBX 4x4)
• Delivery Van (like the UPS/Fed Ex vehicles)
The 20 new MB75 castings are on their way and really look world class!
MB75 Five and 10 Packs
I have also seen the design of the 5 and 10-pack range for 2010 and I should say I am impressed. Beautiful graphs, nice selection of models and the caravan trailer and farm trailer from Hitch n Haul packs will be used in the 5-packs for the first time. I also suggested to the designers that each model (except the Porsches and Corvettes) should as standard have a Tow Bar! I saw next to this caravan some more trailers in the new 10-packs. Trailers are not used in the 10-packs.
MB75 Pop Up's
Saw some prototypes of new Pop Up's. For sure we are going to see more Pop Up's in 2010.
MB75 Pop Up's
The Mega Rigs are brought to the next level of perfection and all will be interchangeable.
Mattel added the following text:

Some big news from El Segundo is that Felix Holst will be taking a broader roll in the Mattel Wheels Division taking over Hotwheels innovation (track sets, monster Jam, Battle Force Five amongst others) as well as Matchbox Innovation and Tyco RC. This move unfortunately means he will be stepping away from Diecast products for awhile to focus on the broader development of all three brands. The Matchbox die cast team will remain unchanged but will now report in to Alec Tam, Director of Design for HotWheels/Matchbox diecast. Felix will be keeping a watchful eye on the development of the diecast line but will be stepping away from any direct involvement in the diecast line.
He is very excited about his new challenge and growing role but is very sad to be leaving the area of the brand for which he has so much passion and hopes that the collector community will continue to support, Dave, Ryu, Michael, Mark and Jeremy and will welcome Alec to the Matchbox fold with open arms.
I think that this carreer move can have an important positive impact on the future of the Matchbox line. It's good to see that on a more strategic position within the Mattels Wheels Division we have a passionate Matchbox man!
Felix Holst will certainly make sure that the Matcbox line benefits from this. Felix Holst is looking forward very much to this position and I am sure he will get all the support from the collector's world he needs.
If you have any question for me to discuss with Mattel or any remark on the report please mail me at
[email protected]
Attachment 1.
This is an excerpt of my PowerPoint Presentation discussed with Mattel at the start of my period as Ambassador 2009/2010.
This presentation shows my private opinion on a number of issues I have collated over the years based on my contacts as Matchbox Collector.
This presentation doesn't show any opinion, approval or disapproval of Mattel.
1. The Matchbox Collecting Community.
I explained that there are in broad lines 6 different areas of collecting (I have limited myself to
the Die Cast section of Matchbox) being:
a. Miniatures.
The 1953 Regular Wheels, Superfast Made in England, Superfast made elsewhere.
b. Convoys and Busses.
Twin Packs, Conventional Convoys, Premier Collectibles, Matchbox Collectibles, White Rose, Super Convoys and Real Working Rigs.
c. Scale 1: 43.
Conventional Models of Yesteryear, Matchbox Collectibles Models of Yesteryears, Conventional Dinky Toys, Matchbox Collectibles, Dinky Toys and the different King Size Models over the year.
d. Scale 1: 18.
e. Matchbox Collectibles.
f. Catalogs.
Dealer Catalogs, Pocket Catalogs, Flyers and other Publications
In order to explain the needs of the different collectors, I gave a picture overview of all the
product lines Matchbox has produced since its start in 1953 in all the above categories.
2. Products to collect.
After this overview I showed which products are currently produced by Matchbox and which of those products are currently available to collectors. Those products are mainly Miniatures, Catalogs and Posters, One Bus per year, Real Working Rigs and the Super Convoys. This (limited) range of products is providing models for 30 to 35% of the Matchbox Collectors. The other 60 to
65 % of the collectors are collecting Matchbox Products that are not produced at the moment.
My estimate (based on active members of MCCH, Matchbox Forum members, Other Club members) is that the above group of recent product collectors is around 1250 collectors.
I then asked a number of people whether they knew how many different miniature models (excluding wheel variations and code 2) Matchbox produced. To my big surprise no one came
even close. In all honesty I should say that the quantity to me was also a little bit of a
surprise. Here are the quantities, as far as you didn't know:
• 2005: 541 Models
• 2006: 417 Models
• 2007: 513 Models
(Source Christian de Lange, Netherlands)
After this I gave an overview of different products that were produced as miniatures (like MB75/MB100 range, 5-packs, 10-packs, and play sets etc.). At this point I showed that outside
the USA ONLY, 30 to 35% of all models produced are available to collectors. The other 60% to
65% is ONLY available in the USA.
3. Major Improvements opportunities.
Hopefully everyone of the Management Team at Matchbox is aware that there is one major
problem and that is the AVAILABILITY of products in ALL world-wide markets.
Engineering wise Matchbox can easily compete with any other model car product line of its kind. The next challenge will be to make sure everyone will have access to ALL products in ALL world-wide markets.
The opportunities to solve a number of problems in relation to the availability, which I have raised during my presentation:
a. One World Wide Range.
I challenged the fact of the necessity of having two ranges, one in the USA and an other in Rest of the World. I did show Mattel with the help of a spread sheet that the major parts of
the USA Only models in 2009 are either generic models (fire, police) or European Cars (Land Rover, Audi) or retro Models. Of the 25 USA ONLY Models of this year a maximum of 10 models
is of cars that apparently are driven only in the USA. This being a fact, I still raised the
question why can't Mattel sell those cars outside the USA?
For the very same reason people want to buy a generic model (truck, ambulance, fire), a lot of people (collectors and non-collectors) would like to buy a Cadillac Hearse, Ford Bronco or a
Jeep Hurricane! I think it's only inertia on the part of the Mattel European affiliates and
secondly not paying enough attention to the great models Matchbox developed over
recent years that there should be a European range. The spread sheet as mentioned proves
this point.
b. Packaging
I advised, that like in the USA, the European sales turnover and by this the availability would be greatly helped by shipping models in boxes of 36 models and following the waves as in the USA as opposite what is done now in Europe (combines two waves, boxes of 72) Smaller cases
should improve the sales turn around and obsolescence and peg warmers would be reduced drastically.
c. Ordering system.
I advised Mattel to have a serious look at some improvements in their ordering methods and systems. I think it's essential for the future of Matchbox that Toy Stores can order specific waves and shipment should be one at least once a week. I also think that if Toy Stores order multiple boxes that they should receive a variety of different waves instead of 5 boxes of the same wave.
d. Dealer Catalog.
I advised Mattel strongly to have a look into their European Dealer Catalogs. I made them
aware that some of the European catalogs include miniatures pictures of Hero City models 5
to 6 years old. This is an offense to Matchbox engineers in El Segundo who do their upmost
best to develop a fantastic line over the last 3 years. Also the fact that Europeans have only
4 or 5 pages Matchbox products (of which one is Finnley!) doesn't invite a lot of people buying other products than the very limited selection is nowadays in Europe.
e. Matchbox Support to Collectors.
There is no or limited support for Matchbox activities overseas. For the first time this year we got a show model made by Mattel for the Leipzig Toy Fair. However I think it's more an activity of Amina Sekandari together with Dirk Schleuer than anything else.
f. Special ten-pack.
I advised Mattel to develop special ten pack (s) that contain all unique models from play sets, pop-ups, seasonal products etc. That would not be their number one selling product, but it would also avoid that collectors buy expensive sets, replace the model and return the sets to the store. This will also add more models to the production, so we can still have uniquely developed models for Pop Up's and Play Sets.
g. Pictures to replace text.
As more and more products are distributed in non-English language countries and thinking of the enormous potential of countries that don't use the Roman alphabet (China, Cyrillic alphabet in countries around Russia, Japan, Islamic Language in the Middle East) I suggested Mattel to reduce the English text on the models and to try to replace it by pictures (a picture says more than 1000 words, also the licensed 5-packs have little or no text).
I also suggested asking every now and then to hire a well known artist to develop an artistic MB75 model or truck. I showed them some pictures from actual models. Think also about the Mattel Fischer range in the Leipzig toy fair 5 years ago. However this is far from criticism on
the actual designs. They are better and more creative than ever.
4. A number of Collector Issues.
a. Internet.
I showed Matchbox Forum's approach towards developing a general Club Site (
www.mbxforum.com
). I was pleasantly surprised to learn that most engineers were using our catalog site occasionally.
b. Official Club status.
I asked Felix Holst to let us know the status of the so called 'Matchbox Approved' Clubs.
It would also be appreciated if Club's would be supplied again with another free Club Model. I think that most of the Clubs are running out of the Chevy Tahoe Official Club Model.
c. Code 2 Models.
Collectors world-wide use a system to code models by their origin. In broad lines the coding system is:
- Code 1. Model made by Mattel and available to the general Public
- Code 2. Models made by or with permission of Mattel and not available to the general
public (like show models)
- Code 3. Models made without permission of Mattel
There is a lot of confusion on the status of the actual code 2/3 models. According to this definition (and what was said during the MATCHBOX USA Convention of 2007) there have
been only a couple of models produced by or with permission of Mattel over the last 3 years. Those models were mainly show models produced by Mattel for the various Conventions and they are clearly recognizable by the blister or (plastic) box as a Mattel Made model.
I also suggested Mattel to clearly mark a code 2 model as a model made by or with permission of Mattel. This should be a written statement on the box or the blister.
d. Show Models.
I suggested to develop a new method for Clubs to acquire Mattel made show models. Mattel
is thinking about my proposal and it looks very promising. It will make it possible that all clubs, organizing an event, will get access to those models for their members.
5. Some miscellaneous Subjects.
a. Blisters.
I also suggested to go away from the 'weather forecast' type of actual blisters in ROW. My strong preference would be a blister with a nice model car on it.
b. New Poster.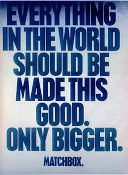 Years ago when quality of cars was the issue in the automotive world (mid eighties) Matchbox issued a poster for all the shops with the words: 'Would like that they made the real cars as good as a Matchbox'. Maybe it's time now that the automotive world is in its second crisis to develop a new poster.