Discussion Starter
•
#1
•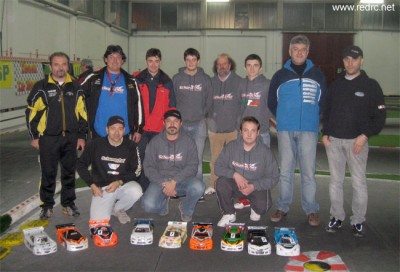 ​
Schumacher are reporting on the fourth round of the UISP Championship in Italy saw the championship move back indoors on carpet for the final round of the series. This years championship has seen over 100 drivers at each race and has made for a very competitive series. With two indoor and two outdoor races making up the series, this would prove to be the deciding round with the best three results to count towards the championship.
Supersport Class – Sorex 36 control tyres, Novak 10.5 Motor
Schumacher drivers Fabrizio Di Michele and Daniel Baldissari were running 1st and 2nd in the championship going into the race. With Fabrizio unable to attend, Daniel was vying for a good Finish to consolidate his championship position. Daniel just missed out on a podium place, finishing 4th in the race, and 4th in the Final Championship standings. Fabrizio's results from earlier rounds saw him claim 3rd overall in the final standings. With Brunelli Alessandro and Dori Francesco claiming joint 1st place Schumacher drivers Mattia Dall'Oca and Alberto Montecchi also made the top ten in the final standings, with Mattia claiming 7th and Alberto finishing up in 9th overall.
Sport Class – 10.5 Motor, Foam tyres
With Schumacher drivers Andrea Aquilino and Lorenzo Bigi running 1st and 2nd going in to the last round, this would prove to be a very competitive race. Andrea did not improve on his previous results taking 5th place, which meant he was just pipped to the championship win and took 2nd place overall. This meant Lorenzo's 4th place finish dropped him down a place to take 3rd overall in the championship.
Final Championship standings below
Supersport class
1. Brunelli Alessandro & Dori Francesco
3. Di Michele Fabrizio
4. Baldissarri Daniel
5. Zapparoli Adalberto
6. Taddei Maurizio
7. Dall'Oca Mattia
8. Bettazzoni Stefano
9. Montecchi Alberto
10. Fabiani Mauro
​
Sport class
1. Romagnoli Samuele
2. Aquilino Andrea
3. Bigi Lorenzo
4. Tenan Ivan
5. Pagani Christian
6. Simari Tony
7. Mazzini Marco
8. Bicchi Maurizio
9. D'Alessandro Christian
10. Puleo Marco
​
Source: Schumacher [racing-cars.com]
</img>
</img>
More...