Discussion Starter
·
#1
·
Always been a Pontiac Man.
One of my favorite sounds came from that low rumble in the dual exhaust of my '66 G.T.O.
Anybody remember Wah-Wah bars?
That chrome ring halfway around the inside of a steering wheel.
You could just barely depress it when you pulled up in front of someone's house late at night and instead of the horn blowing loud it just gave a deep low Wah-Wah.
You can't get that from an import.
Then there was my '72 Gran Prix SJ. A big heavy ride with plenty of power and style.
HW's makes a great casting in this '69 G.T.O.
It takes a little cleaning up but it renders great results.
File the ridges on the roof above both side windows.
Take the flash off the front edge of the hood, file out the windows and wheel wells, file the ragged edge of the spoiler, sand eveything with 220 and she's ready to paint.
First a light dusting with Adhesion Promoter.
Then they each got a basecoat of Shimrin White for a good clean color foundation.
The solid white one is SnowWhite Pearl, of course, with a clearcoat containing Brilliant Gold Pearl Powder.
The Pearl Lemon Yellow one was first finished in SnowWhite Pearl, taped off, painted Lemon Yellow and then a coat of Intercoat clear carrying Yellow Pearl powder.
The Kandy Organic Green and Kandy Pink were both shot Shinrin White, then Fine Orion Silver, then a light clearcoat with Silver Powder to give their base colors a heavy Metal Flake effect.
Next they were both taped and shot their respective finish Kandy colors.
The SnowWhite Pearl and Yellow Pearl have the Flame Decals on top of the color coat, and the Kandy Green and Pink have the Flame Decals on top of the Silver Metalflake and underneath the Kandy.
This gives them a ghost flame effect.
Thanks to FlaminGraphics for the design of the flames.
All HOK paint products, Of Course!!!!!!!!!!!!
Rivet reassembly.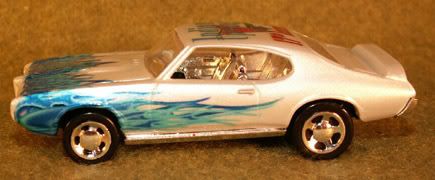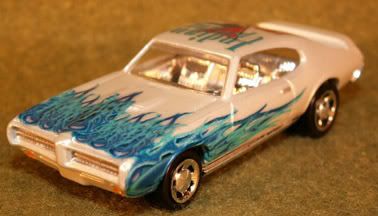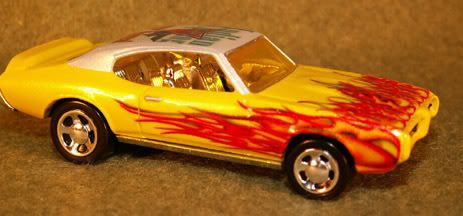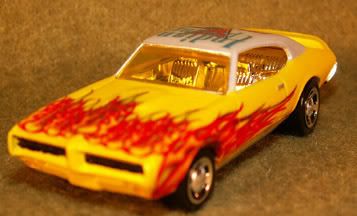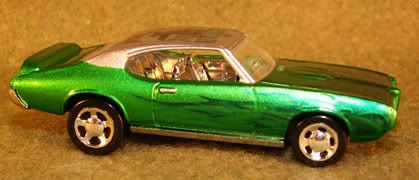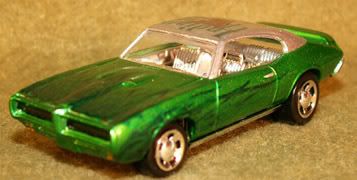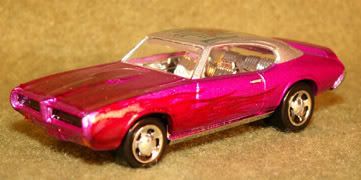 --CadillacPat the UnCustomizer--

www.CustomOutlaws.Com