Discussion Starter
·
#1
·
This is another of the castings HW makes that allows you to fully wrap the front cap.
The beautiful body style of the '67 Fairlane is represented well by HW's in this little casting.
I bought one of these back in 1970 with only 12000 miles on it from my Uncle's mother. A true "just to the grocery and back".
3 speed 289 with great gas mileage and even better performance.
Stripped, this casting reveals only very minimal casting flaws which are taken care of quickly with a small file and sandpaper.
Primed and the roof is first shot with a mixture of Platinum with a drop of Organic Green Intensifier, then InterCoat Cleared for taping, taped, and the body is shot Shimrin White.
Decals are created in PhotoShop to perfectly fit the Hood and sides.
These scalloped style flames and colors are new for this Custom.
Front and Rear windshield trim, tailights detailed.
Custom Cut Chrome Center Caps detail and Customize the otherwise ordinary factory rims.
Rivet reassembly for a permanent professional appearance.
Cleared with HOK Urethane Clear Enamel and a dash of Brilliant Gold Pearl Powder.
All Products Used Are Exclusively House Of Kolor, Of Course!!!!!!!!!!
Clear InkJet Decal paper from Papilio.com
This one is made for a good friend Aussie Max in Bendigo, Australia.
Max, a huge Collector of DieCast is a former member of Parliament and best friends with the guy who puts on the Australian HW Conventions.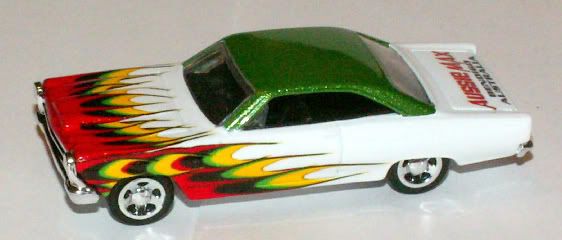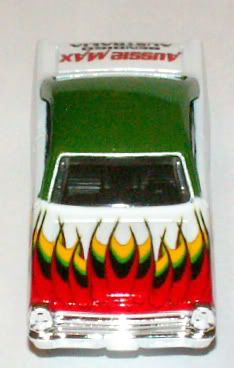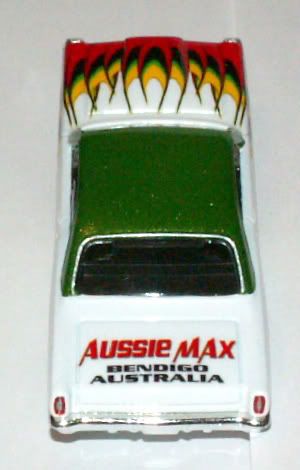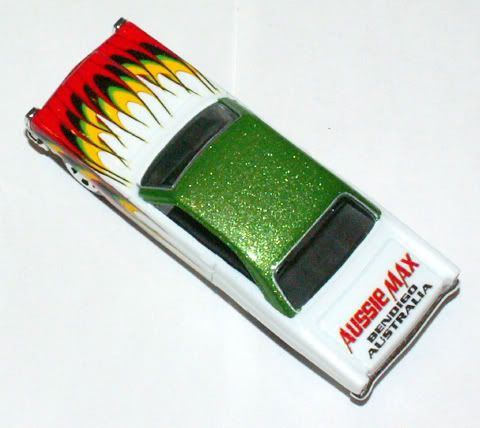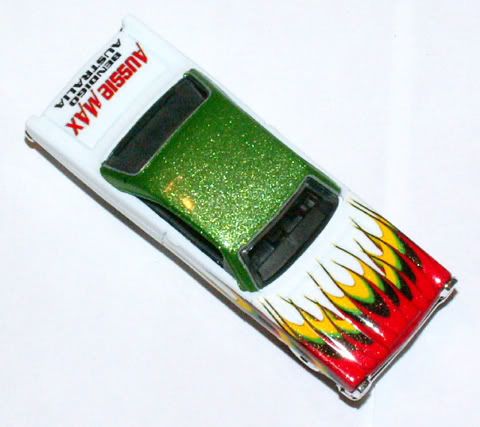 Coming up, some '64 Impalas,
--CadillacPat the UnCustomizer--
Keeping the ZING in CustomiZING!!!!!!!!!!!!!!!!!!!!!!!!