Discussion Starter
•
#1
•
​
Addiction RC, located in Ogden Utah, hosted the first annual Hot August Offroad Challenge. Under the clear skies of Utah, racers gathered in 100 degree weather to take place in this event. The track was a smooth high speed layout, with tire eating traction. In Stock buggy finishing in 3rd place was Bryan Martinez running his Team C Evo buggy. 2nd place went to Nathan Empie (Team C) with Brandon Twitchell finish 1st with his B4.1 buggy. In 13.5 Stock 4×4 buggy drivers struggled to keep temps down in their cars. In the end Brian Schow took home 3rd place, with Tony Weaver finishing 2nd. Marvin Flores and his XXX-4 would take home TQ and 1st place.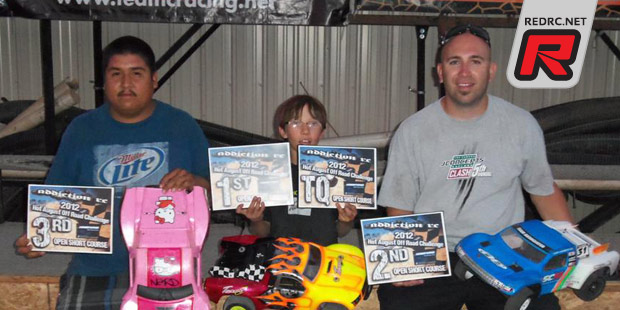 Open 2WD Short Course saw Nathan Empie dominate the qualifiers and take TQ, he seemed to be untouchable but Brandon Twitchell wasn't going to let Nathan take the win that easy. Both drivers would battle the entire 6 minutes and in the end Nasty Nate would hold on to take home 1st place. Brandon Twitchell ended up taking home 2nd place and Kevin Flores ended up in 3rd place overall.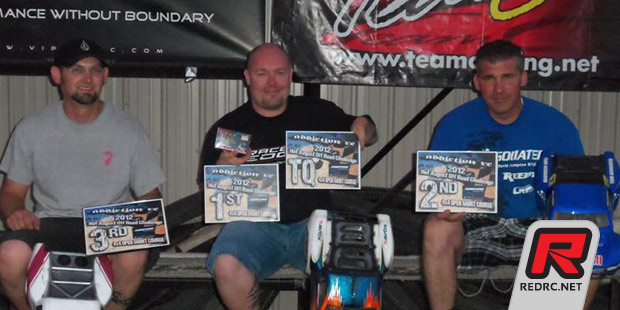 ​
The 4×4 SC class proved to be another exciting class to watch as the top 5 drivers finished within ten seconds of each other in the main. Aaron Carver and his SC10 4×4 took home 3rd place. Erik Evenson (Team Associated) would take home 2nd finish just 1 second behind TQ and A-main winner Chris Carr.
In Modified buggy the crowd would see some of the best drivers in the nation do battle against each other: Team Associated driver Rob Gillespie and TLR's Joe Eaton. Gillespie would hold off Joel Eaton in the fist two mains to take home 1st place and TQ in mod buggy. Joel Eaton would take home 2nd. 3rd place would go to local 17 years old Aaron Williams who keeps improving his game and should be able to compete with the big boys in no time.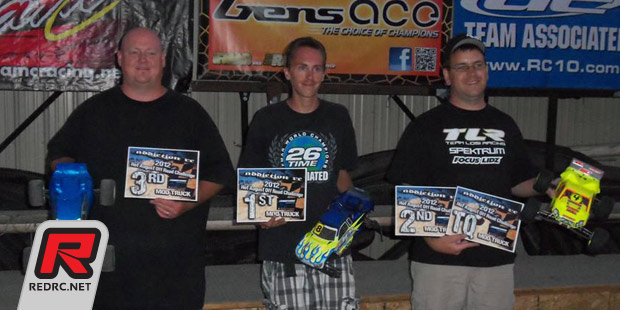 ​
Modified truck would also pit Rob Gillespie and Joel Eaton against each other. Joel Eaton ended up on the pole position after qualifying, Rob Gillespie would start in the second position. During the first A-main Joel would hold the lead for most of the race, with Rob Gillespie putting pressure on Joel Eaton the entire time. With less than a truck length separating the two and with about 30 seconds left Joel clipped a pipe and let Rob Gillespie take the win in the first A-main. In the second A-main, Joel would make an early mistake and give Rob Gillespie the lead, Gillespie would take full advantage and take the win. In the end it would be Rob Gillespie taking 1st, Joel Eaton 2nd and Beazer Martin 3rd.
In 4WD Modified it was again Team Associated driver Rob Gillespie who would take home TQ and 1st Place. Beazer Martin would take home 2nd and Chris Carr took home 3rd place.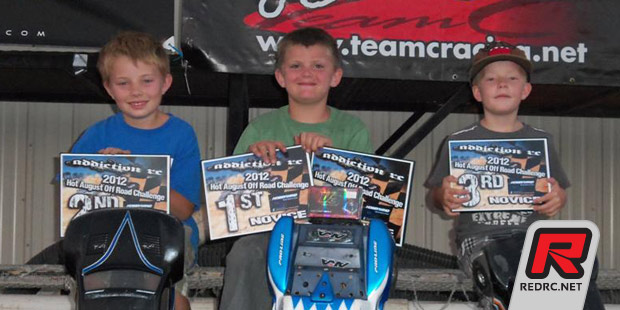 ​
The novice class also had some very competitive racing. Taking 3rd place was Blake Miller. Second place went to Parker Weaver. Taking TQ and 1st place was the second youngest racer in the class Daemian Flores and his XXX SCT, he was awarded a Hobbywing Xerun 120 amp V3 speed controller, that was donated by Hobbywing. Daemian has been on the podium at all three trophy races he has attended this summer. At 7 years olds he has a bright future in the hobby
.
Many thanks to Marvin Flores for sending the report.
More...