Discussion Starter
·
#1
·
A while back, people were talking about the possibility of reviving STAR TREK TOS as an animated series, maybe even redoing the original animated series in CGI. I started to wonder what it would take fans to do something like this. Off and on over the last few months I've been trying to recreate the costumes. The images below were created with Poser, Carrara, and Paint Shop Pro. The models are the standard Jessie and James figures that come with Poser 6.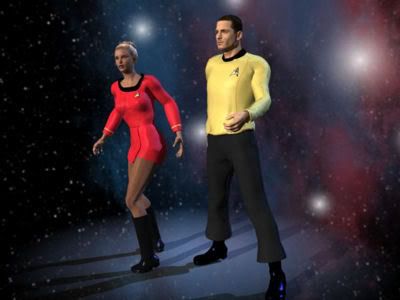 And some simple animation:
It turned out to be a little more involved than I expected. I started by trying to convert a sweater that came with Poser into the Captain's shirt. I ended up spending about 27 hours on it. A good part of that was figuring out how to do the braid.
I then bought an add-on for Poser to use on the Female uniform. I was able to create that in about 11 hours.
Using the same technique, I created the man's pants in 5 1/2 hours.
For some reason Poser doesn't come with any usable boots. Trying about four different techniques, I was able to create the woman's boots in about 8 1/2 hours. I was then able to do the man's boots in 4 hours.
A lot of this time was trial and error. Since I now have a better idea of how to do this stuff and there are a number of glitches in the props (like the ragged folds in the man's sleeve), I'd probably recreate everything from scratch if I wanted to continue with this.
But if anyone wants to do a graphic novel or animated film of THE ADVENTURES OF CAPTAIN PIKE or CAPTAIN KIRK: YEAR ONE, and has the time and inclination to work with this, you can get the software for a few hundred dollars.
And if anyone is wondering, the figures are anatomically correct, so if someone wants to do their own version of "The Naked Time" or a story about Kirk and Spock's real relationship...