Straight Outlaw Pipe
I bought one of these for my Revo through EBay. Talking about a wicked muffler. The sound itself is amazing. My neighbors hate me and can no longer run at my house at night but who cares.
As for mounting it, you are right, there is no where to attach the wire to the muffler so you can mount it to the frame. What I did was zip-tied the wire to the muffler (I think a small hose-clamp would work better though which I am goingto try as the heat makes those zip-ties brittle) then I attached the wire to the frame.
The biggest complaint I have of the muffle is there is no nozzle fitting for the back pressure hose, you have to push it through a hole drilled into the muffler. The craftsmanship of this muffler is great and the performance is wicked but they should have gone a bit further with the design and manufacturing of it.
I am having someone weld a fitting in the hole for me so I can secure the hose and, while I am at it, I may mark the right spot and have them weld my mounting wire also.
Here's a picture of it (I also attached it in case this doesn't work):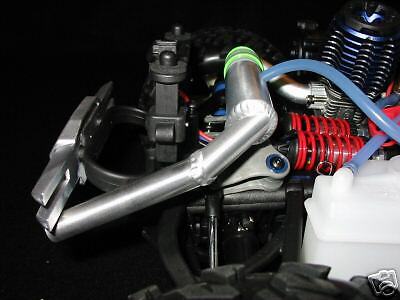 Chris