I've been jonesing for a decent diecast fix. I have found my share of super hunts this year but that's about it. I do not collect any other HW mainlines. I have grabbed a few HW Nostalgia here and there. I had pretty good luck with Forever R21(4 whites) I don't collect R64 but I am not dumb enough to leave a white behind as hard as they are to come by. I have found 1 GM this year, and one M2 Chase. Anything else that was added to my collection came through trades, ebay, or TTP. It's been a slow year.
With the current hiatus of high end JL I have given some thought to expanding my collecting habits in regards to brands. I used to be a big GL collector but their recent turn towards newer iron has me a bit nonplussed. AB15 and the new bandits look promising though I doubt my sorry TRU will get any. They have gotten ZERO collectable diecast since before Christmas 2011. All they have stocked is HW, MB, and Pixar. It's a really sad state of affairs. As previously stated I buy limited HW(no mainlines unless they happen to have rubber tires, LOL). JL 2.0 is invisible at retail. Very slim pickins in the GL arena as well. MB may as well be mainline HW with all of the goofy deco so none for me please, so it would appear I am stuck. I have been a big JL collector over the years and now it appears that like it or not, that chapter may be about to close. At this point I have little faith in the brand. If I keep my expectations low then maybe I won't be disappointed.
I have taken exception to some of the issues with M2 over the years. QC is a problem. Anyone who says QC is not a problem at times would be a blind homer in my opinion, strictly MY opinion. I have seen many, many cars in various states of assemblage over the years(I hunt a LOT) and I was unwilling to cut such a simple problem any slack. I don't wish to pay $6 for a car I have to put together. Another issue I have is the scale. In some instances the M2 is larger than it's JL/GL/HW counterparts. I am an opener and display like makes/models together. I did not want to seperate diecast brands or be forced to buy another $100+ display case just so I could seperate the M2s from the rest because side by side the M2 is(in most cases, not all) too big. My third and final gripe about the brand is not the opening doors, rather the gaps around them. In scale, a 1:1 version of most older M2s would have a 4" gap around the door. The cars won't fit into the displays with the doors open(and would not match my other brands) so closed is how they are displayed with big gaps around the doors. It's hard to see any detail on the inside of the doors so for me the opening doors are more of a detraction than a plus.
I lurk around the M2 threads and even comment when I see something I like. Lately it appears that the door gaps have improved a little and QC has maybe stepped up their game as well. I see how much pleasure and pride other collectors have in their M2 collections and questioned myself as to if I am missing out on something. I met Sean at AF in 2009, seems like a stand up guy and a good company. I have always wished these pet peeve problems I have with the brand didn't exist. I also wished over the years that M2 would move in my direction a little in terms of subject matter. I am a late 60s-early 70s musclehead and most of M2's early stuff was 50s based. Now I see the product line expanding and some of the new products look darn good, even in macro photos wich will bring out the smallest of imperfections. I have bought quite a few M2 chases over the years and the black on the geese help a great deal with the door gaps as well. LOOONNNNGGGG story short, I have bought 3 M2s in the last 3 days.
I saw that my Wally's had gotten some new Drivers finally and picked up this lovely black Roadrunner. I couldn't resist it. Is it as nice as a GL B-body? in a word no but it was half the price and beats a Forever hands down in terms of feel and overall quality. I am happy with this purchase and for the price I won't complain about the plastic base. Sean, you should be proud of your team on this one!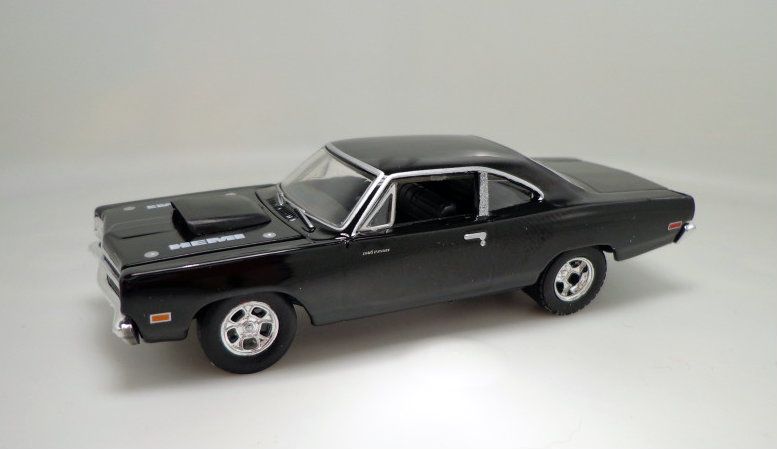 I am a Mopar guy but those who know me know that I have a soft spot for Oldsmobiles, especially 442s. I examined this one and the door gaps looked acceptable and the rest of it looked good so I bought it. As you guys know these come in the package driver's side out and closed, inside/passenger door propped open. I opened'er up.
Driver's side: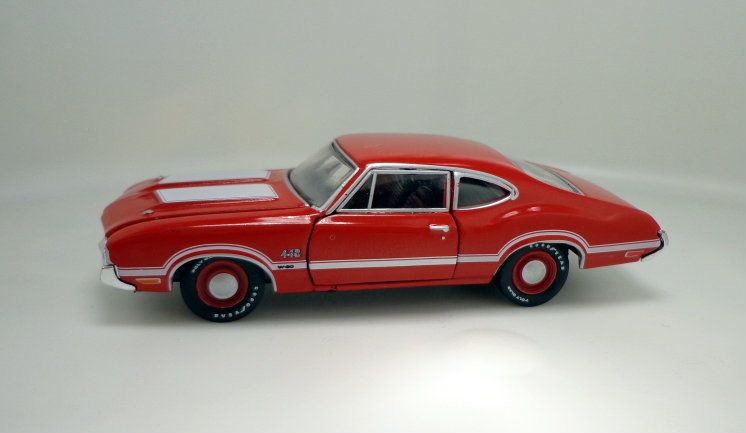 I unscrewed the plastic pedestal and closed the passenger door. This is as good as it gets.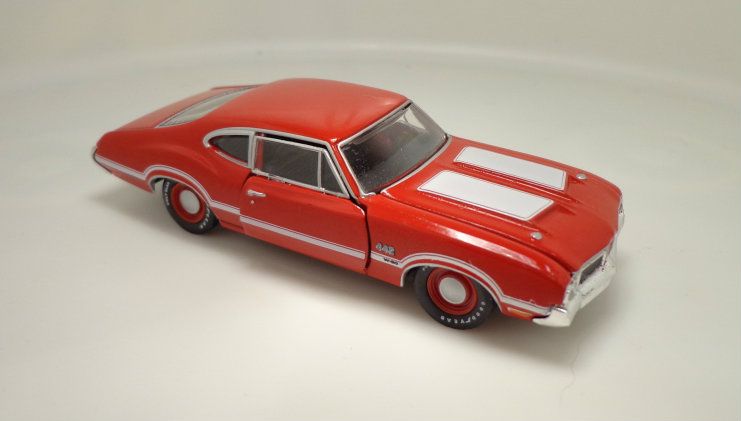 Needless to say I was not happy. I tried forcing it closed to no avail. The hinge appears to be too low. Despite my best efforts this is the best I can get it to look.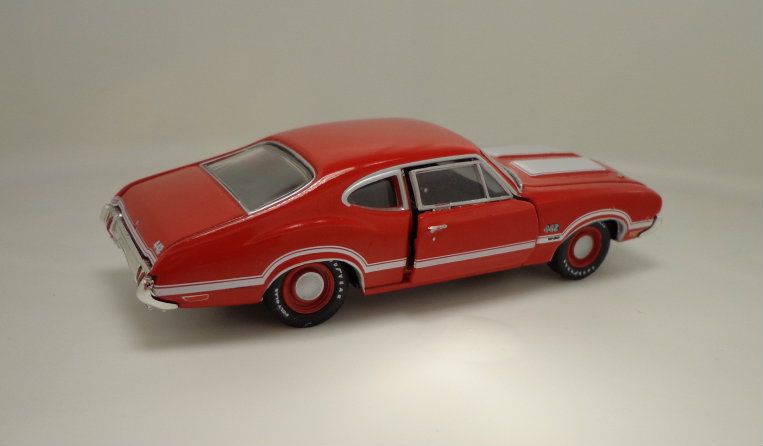 Well,,, today I was in Hobby Lobby and they had the newest Auto-trucks. I spotted a killer-green Dodge and I wanted it. After making sure the doors didn't open I bought it and I'm glad I did. Kudos to you and your team again Sean for having the cajones to put this very bold Moparesque green on the body. Overall it is a very nice, and unique piece. Glad I bought it.
So now what do I do? I don't know yet.