Discussion Starter
•
#1
•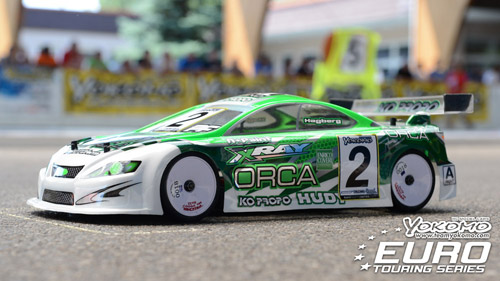 Team Xray's Alexander Hagberg has won a thrilling second A-Main at the sixth & final round of the Yokomo Euro Touring Series in Austria. The Swede took the win ahead of defending champion Ronald Volker and fellow countryman Viktor Wilck after Top Qualifier Yannic Prumper and Andy Moore clashed on lap 6 while battling for the lead. With Hagberg's first A-Main effectively over at the first corner following contact with former World Champion Moore, this time out the ETS Poland winner benefited from the British ace, who set the fastest lap, as this time he clashed with Prumper. Having been passed by Moore on lap 3, four laps later Hagberg took over the lead when Moore tried & failed in a move to pass the young Yokomo driver on what is proving to be a very difficult track to over take cleanly. Coming under intense pressure in the closing laps from current World Champion Marc Rheinard, who ultimately tried too hard and broke his car in the final run through the sweeper, Hagberg showed great calm to hold on for the win thats puts him in contention for his second ever overall ETS victory in the ETS's season closing encounter in Traiskirchen.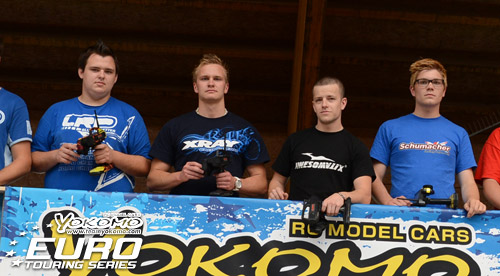 In the Xray Pro-Stock class, the second A-Main also saw the Top Qualifier knocked out of the lead as the second placed car, through the same section of the track, made a challenge for the lead. Under intense pressure from the HB of title contender Oliver Franke, Tony Streit was just four laps away from securing his first ETS victory when the No.2 car sent his Xray into a roll. Martin Hofer was the benefactor with the factory Schumacher driver going on to take a comfortable win over the recovering Franke and Streit. Once again championship standings leader Zdenko Kunak had a tough race finishing 7th.
Ride Modified A-Main Leg 2 Result
1.(2) Alexander Hagberg (SE) – Xray/ORCA – 21/5:06.505
2.(4) Ronald Volker (DE) – Yokomo/LRP – 21/5:07.997
3.(5) Vitkor Wilck (SE) – Tamiya/Thunder Power – 21/5:08.237
4.(6) Christopher Krapp (DE) – Kyosho/Orion – 21/5:09.499
5.(3) Andy Moore (GB) – HB/Hobbywing – 21/5:10.040
6.(9) Freddy Sudhoff (DE) – Awesomatix/LRP – 21/5:12.481
7.(8) Magnus Vässmar (SE) – Xray/Thunder Power – 21/5:12.687
8.(10)Martin Hudy (SK) – Xray/LRP – 21/5:13.417
9.(7) Marc Rheinard (DE) – Tamiya/Speed Passion – 20/4:51.254
10.(1)Yannic Prümper (DE) – Yokmo/Hobbywing – 12/2:51.594

​
Xray Pro-Stock A-Main Leg 2 Result
1.(3) Martin Hofer (DE) – Schumacher – 20/5:15.325
2.(2) Oliver Franke (DE) – HB – 19/5:02.203
3.(1) Tony Streit (DE) – Xray – 19/5:02.560
4.(10)Ivan Laptev (RU) – Awesomatix – 19/5:02.616
5.(9) Bernhard Bopp (DE) – HB – 19/5:03.176
6.(8) Dominic Vogl (AT) – Awesomatix – 19/5:03.593
7.(7) Zdenko Kunak (SK) – Xray – 19/5:03.732
8.(5) Marek Cerny (CZ) – Yokomo – 19/5:04.294
9.(4) Morten Iversen (DK) – Awesomatix – 19/5:09.916
10.(6)Philipp Neudinger (AT) – Awesomatix – 1/0:02.367

​
View the full event results
here
.
View our event gallery here.
More...