Discussion Starter
·
#1
·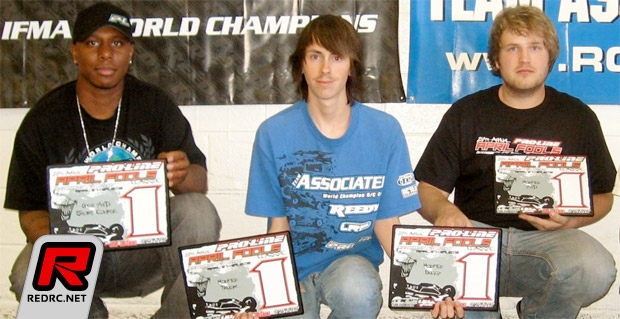 For the 24th year in a row, racers gathered at the historic Intermountain R/C Raceway just outside of Salt Lake City, UT and this year the entry count was over 200 for the smooth indoor clay surface race. Qualifying started Friday afternoon and ended Saturday night, with Mains on Sunday. Mod classes included 2WD Buggy, Stadium Truck, 4WD Buggy, and 4×4 Short Course. Team Associated/Reedy/LRP driver Rob Gillespie Jr. made a bold statement in qualifying, earning TQ in all three classes he entered, Mod Buggy, Mod Truck, and Mod 4WD. The hometown driver seemed to be very comfortable on the track with his Pro-Line-equipped Team Associated vehicles all weekend long. Adrian Redding went on to earn the last TQ spot in the 4×4 Short Course field with his Factory Team SC10 4×4.
Rob Gillespie Jr. got off to a slow start for the triple A-mains. A shaky start from Rob saw him finish third in A1. However, a stellar recovery with victories in A2 and A3 allowed him to take the 2WD Mod championship with his Factory Team B4.1 Worlds Edition.
1. Rob Gillespie Jr
2. Joel Eaton
3. Corey Peterson

​
In Mod Truck the story was similar. However, this time Rob Gillespie Jr. took the A1 win after some very close racing with Joel Eaton, and in A2 Rob would again go ahead and run a flawless race and earn the championship with his Factory Team T4.1.
1. Rob Gillespie Jr
2. Joel Eaton
3. Brian Strange

​
4WD Mod proved to be very intense and packed some of the best racing of the weekend. TQ Rob Gillespie Jr. and local privateer racer Kobe Yonker, also running an Associated B44.1 on Pro-Line rubber, had a great race. Rob's run at winning all three classes got a bit of a wrinkle as Kobe took the win in A1. Rob would respond with a win in A2, leaving it to a two-car showdown in A3 to decide the winner. Kobe and Rob would quickly get away from the field and race each other strongly for about 5 minutes. A bad crash from Rob with about a minute to go was enough to kill his chance of a triple crown for the weekend. Kobe Yonker looked great all weekend in 4WD and deserved the win. Rounding out the podium for Team Associated was Eric Willardson, completing the B44.1 sweep.
1. Kobe Yonker
2. Rob Gillespie Jr
3. Eric Willardson

​
In the 4WD Short Course class, Adrian Redding and his Pro-Line-equipped Factory Team SC10 4×4 made good on his TQ position. After fending off local Jason Smith, Redding gapped the field, thus securing a fourth title for Team Associated at the April Fool's Classic.
1. Adrian Redding
2. Jason Smith
3. Aaron Eastman

​
Source: Associated [teamassociated.com]
More...