These are the Mustangs that still elude me.
70 Mach1/Mustang II Rel.3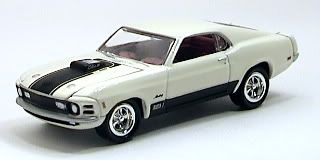 Ford Muscle 10 Car Box(2005)
I've about given up on this Daytona
Wal-Mart Exclusive Mopar or No Car Hemi
And this Superbird.
Muscle Cars 10 Car BoxSet (2005)
But I have slowed up on diecast purchases, so I havent looked lately either.
Photos from JL collector.com