Discussion Starter
·
#1
·
European Tomica? HELP with ID
A member on another forum that I frequent has a loose Mazda Savanna RX7. He wants to know when & where it was sold.
I was able to locate pictures of it that show it coming in a blister pack, and I think sold in the UK.
Anyone have any more info about this car or line of Tomica - specifically when they were sold and in what countries.
Found this on the web to show what the car and packaging looks like: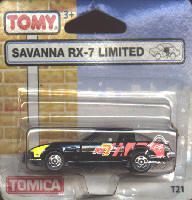 (image from Mick's Model Auto World)