Discussion Starter
·
#1
·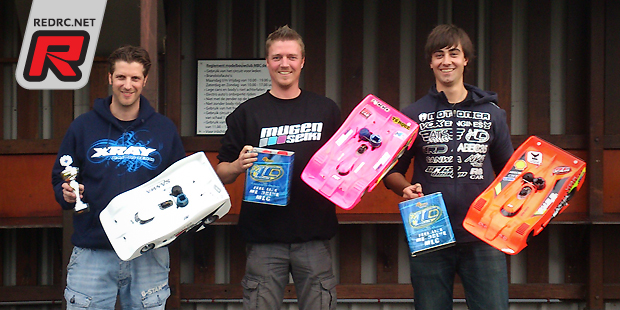 ​
The 6th and final round of the Dutch 1/8th nitro on-road nationals was held at the small and tricky track of the MBC de Sluis in Gouda. A total of 45 drivers attended and together with the sunny weather this made for a fantastic final of the 2012 season. In the NK class the battle for the Dutch championship was between the two Xray drivers John Ermen and RickV with the latter having a small points advantage. During qualifying Jon showed a fantastic pace and took TQ with RickV only making the 4th fastest time. Belgium drivers Robin d'Hondt and Steven Cuypers took second and third on the grid and it looked like John would be unbeatable this weekend. But at the start of the main final John made a mistake putting him back in 10th place while Robin taking the lead closely followed by Steven and Rick. During the tire change Rick lost some time and fell back having to battle with John for the 3rd place while Steven and Robin were battling for the win. At the end Steven won the race just 0.8 seconds ahead of Robin giving RickV the national championship title.
Top 10 NK class
1. Steven Cuypers
2. Robin D'hondt
3. Rick Vrielijnck
4. John Ermen
5. Gunther van Staey
6. Daan Haling
7. Martin Zevenhoven
8. Michiel Renting
9.*Frank Baggen
10. Arie Manten

​
In the NOMAC class John Lenaers, Danny Leewis and Marc Meijer had the chances to become Dutch champion. Danny could take the pole position with just 0.3 second ahead of Patrick Vannieuwenhuyse followed by Marc Meijer and John Lenaers. One lap after the start there was a small collision between some drivers putting Danny a few places back but with a strong race on his home track he managed to take the win followed by Patrick Vannieuwenhuyse and John Lenaers. This third place also meant the Dutch championship for the Belgium driver.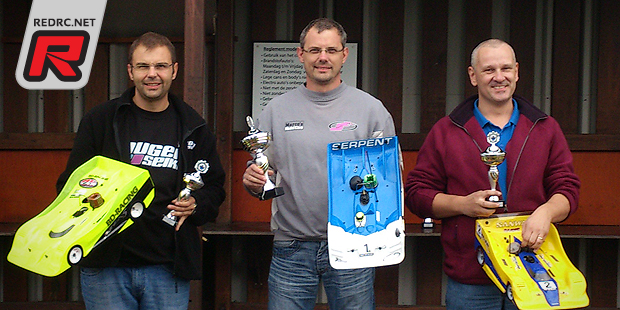 ​
Top 10 NOMAC class
1. Danny Leewis
2. Patrick Vannieuwenhuyse
3.*John Lenaers
4. Ad Vissenberg
5. Ad Arents
6. Marc Meijer
7. Benny Ciere
8. Ron Veger
9. Remco de la Haye
10. Stanley Bauer

​
Thanks to Roelof Tooms for sending the report.
More...