Discussion Starter
•
#1
•
"Double Vision Dairy"
I normally don't show my Customs as they are in the process unless it's part of a Tutorial or "How To Build This",
It's easy to see I like Customizing DieCast that represent real cars, cars that you see going down the road or parked in the driveway.
If you've never seen one of these Dairy Delivery's going down the road just take a look at the Dick Tracy Movie with Warren Beatty in it.
A Brown/Yellow/Cream Dairy Delivery can be seen several times in city scenes of that flick.
Beautiful truck.
But, the HotWheels version has always needed something,
First, why doesn't HW make a decent grill insert for this casting.
The grill could be part of the interior just as many other HW's are designed.
The present molded grill is just too poorly and vaguely cast.
Second, The large factory opening for the front windshield is not only innacurate for the Dairy Delivery, it is obviously plain.
So,
I don't make many Customs for myself lately.
At the moment I'm making 11 for those of you here on HT.
But this Dairy will go in my ShowCase when I set up at Events.
The same 1/32" Brass Rod that I use to separate stacks on my Customs using the BoneShaker engine is used here to partition the front Windshield into 2 sections, correct for that period.
Two tiny v shaped slots are filed into the center top and bottom of the winshield opening.
This will allow the Brass Rod post to lie in the same plane as the Windshield.
Then correspondingly, a short piece of 1/32" Brass Rod is filed on opposite sides of its ends into a chisel shape to fit the v shaped slots.
This male/female configuration of parts will give the new Windshield post much more strength than had I just welded both flat ends of the Brass Rod to both flat edges of the Windshield opening.
Welded in with just a tiny amount of JB Kwik it is then filed and sanded smooth after the JB cures.
I'll simply lay the Windshield in behind the Brass Rod, score down both sides of the Rod with a needle and then file a shallow groove with a Micro File.
The new nose is formed from recently puchased Apoxie Sculpt.
http://www.hobbytalk.com/bbs1/showthread.php?t=263942
I drilled 3 small 1/16" holes in the existing grill to give the Apoxie Sculpt even more adhesion.
As sanding and shaping the nose progressed I painted it with my Primer Mixture to see where further adjustments had to be made.
Just using a small Testors brush and only painting what is necessary saves time and prohibits excessive Primer buildup on the rest of the model.
This one is just about done.
One more time with Primer Mixture, some sanding with 600 and she's ready for paint.
I haven't decided on colors or Graphics yet but I'm sure something will come to me as I am making Customs that some of you have ordered.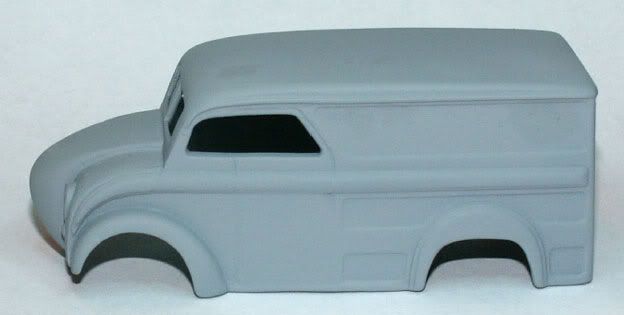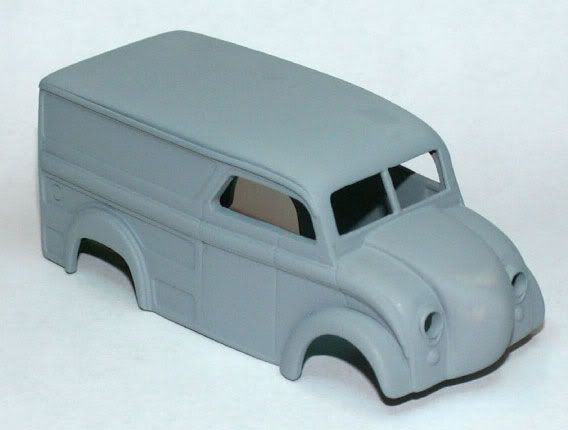 Note here that the rear openings for the Taillights have been very slightly enlarged to facilitate easy reinsertion of the base.
These rear openings as they come from the factory are notoriously tight since the base goes back on at an angle.
You don't want to be chipping or pushing on the edges of these openings, as you reinsert the base, once they are painted.
Slightly enlarge them with a Micro File and then sand them out with a rolled up piece of 220.
This will sit rolled up in a baggie until I decide on Graphics and Wheels.
More pics when she's finished.
--CadillacPat the UnCustomizer--
Keeping the ZING in CustomiZING!!!!!!!!!!!!!!!!!!!!!!!!!!!!!