Discussion Starter
·
#1
·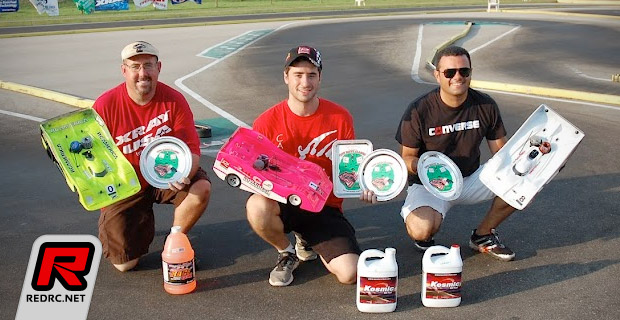 The 1st Annual Cow Patty Classic took place this weekend at Nugget's Raceway Ranch in Arcadia, Florida USA. Racers from as far as California and New York made the trip and were rewarded with excellent track conditions and great competition. It was a very hot weekend with ambient temperatures of 95+ degrees and track temps as high as 140. Despite the heat, the track was in great shape with very good traction and tire wear with near record breaking lap times. Running 5 minute qualifiers was welcomed by most as they prepared for the ROAR Nationals later in the year at this track. Some chose to pit during their runs but most of the fast runs were done without a stop with all the TQ runs happening without a stop. The mains were intense with tight competition and different fuel and tire strategies taking place and it was Joaquin DeSoto Jr and DJ Apolaro taking the wins in 1/8th scale and sedan respectively.
1/8th scale results
1. Joaquin DeSoto Jr – 109L 30:01.80
2. Gianni Giorgio – 108L 30:14.09
3. Tony Rice – 106L 30:00.49
4. Mark Harrison – 103L 30:06.46
5. Chuck Moon – 102L 30:09.55
6. Michael Palazzola – 94L 26:23.81
7. DJ Apolaro – 84L 23:47.62
8. Paulie Beccantti – 82L 30:16.15
9. Kenny Ives – 58L 17:23.11
10.Rafael Angulo – 29L 11:07.18

​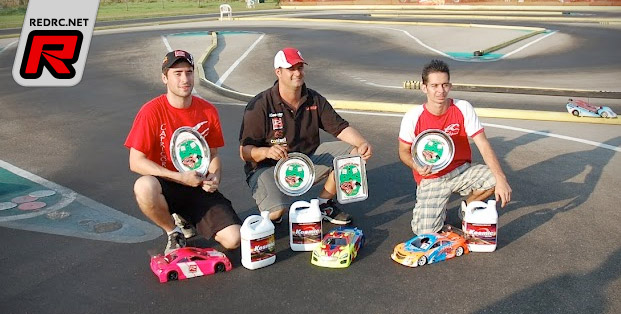 Touring results
1. DJ Apolaro – 98L 30:08.70
2. Joaquin DeSoto Jr – 98L 30:20.30
3. Junior Castellanos – 95L 30:18.42
4. David Larry – 91L 30:07.81
5. Anthony Schimizzi – 89L 30:19.65
6. Peter Breton – 73L 28:05.38
7. Michael Palazzola – 68L 26:02.75
8. Rino Lino – 32L 9:40.63

​
Thanks to Joaquin de Soto for the report.
More...