Discussion Starter
·
#1
·
The HW Dairy Delivery is certain to remain an anchor of their Diecast line.
It's a litle rough out of the stripper but when you smooth out all the rough edges, corners, window openings, and clean up the ridge running across the nose it really comes to life.
If it could just be purchased off the shelf with decent wheels it would be a Grand Slam.
I hear there's a Holiday Rod version, sadly in limited quantity, that fits this bill.
There is of course a new kid on the block in the form of the Jada Divco Cruizer.
While it can never completely replace the DD it is sure going to grab it's share of attention.
A clean casting with style and great factory wheels gives it an A100.
Here's a little comparison of the two with similar paint schemes.
Each casting had it's headlights drilled out for Rhinestones and the Divco had extra stones set in the front fenders and in the rear of the body.
Both are stripped and then sanded with 220.
Then they're scrubbed with brushes, soap and water, and shot with a Shimrin White basecoat.
Fenders are covered with PBC Tangelo Pearl, then InterCoat Clear and then taped off.
Once again the entire castings are coated with Shimrin White basecoat followed with SnowWhite Pearl and then another InterCoat Clear.
The Beltlines are taped off right down the center of the raised edge and the tops and backs are painted SG Lemon Yellow followed by Intercoat Clear with a good dose of Yellow Pearl powder.
All the Rhinestones are set, Decals applied, windshield and rear window and headlight trim applied, and Gold foil tape laid down to cover the tape line along the beltline.
Both were finally topped with HOK Clear with a pinch of Brilliant Gold Pearl powder to tie in and soften the contrasting colors.
All HOK producrs, Of Course!!!!!!
First the Dairy Delivery: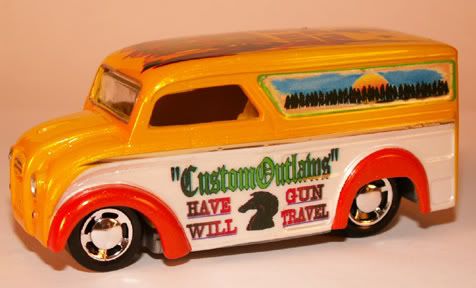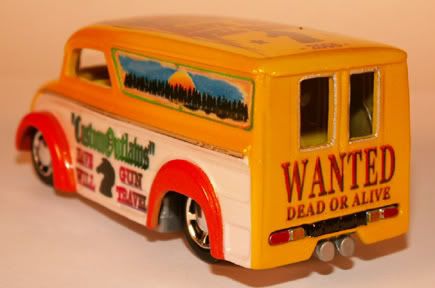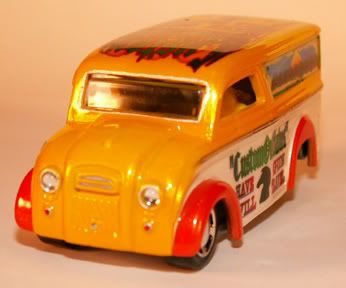 Now the Divco Cruizer: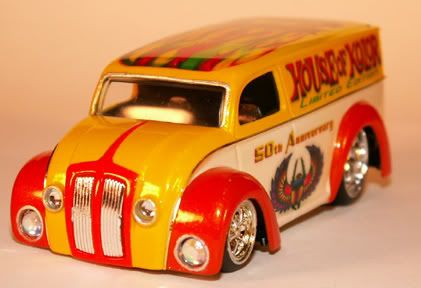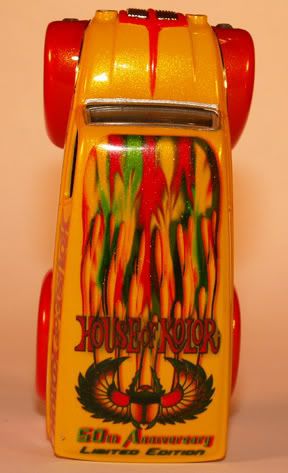 The Dairy Delivery is about 1/8" taller than the Divco and the Divco is about 1/8" longer than the Dairy.
Thanks to FlaminGraphics for helping with the upper panels on the Dairy and for supplying the basic flame shapes on the roofs.
I think the Dairy D needs to have it's nose trimmed in Tangelo like the Divco.
Happy New Year Podnahs,
--CadillacPat the UnCustomizer--