Discussion Starter
·
#1
·
Some HW Collectors go nuts over the '67 Camaro Convertible.
It's sort of like the Drag Bus, regardless of how it looks they will buy it.
I think it is one of the most poorly made castings in the entire Mattel garage.
When stripped the '67 Camaro completely lacks any definition and the body has issues with a variety of casting seams, scars, dents and jagged edges.
It was the first HW to be manufactured so crisp definition wasn't on the drawing table at the time for this casting.
In the Mainline $1 cars we have the '69 Convertible Camaro introduced recently a couple of years ago.
This is a very well made casting that does an honorable job of portraying the real thing.
Now if HW will just give us the Hardtop '69 or '68 Camaro in the Mainline $1 cars.
I decided to throw some of these Camaro's into the run of NASCAR Customs I'm making for Bud Harris.
Like anything they have to be prepped correctly to make them stand out.
Any imperfections, scars, or casting seams are filed and sanded.
Wheel wells and inside edges of the interior opening are filed and sanded smooth.
Grille opening is filed and sanded.
Primered and shot Shimrin White.
Decals are created flame by flame in layers on top of Hood and Side scans of the body.
If you've ever seen the giant Scarlet Macaws of South America you'll recognize their influence in the Red Blue Yellow style. The Decals come out looking more like feathers than flames.
The Orange scheme of flames was put together to pay homage to the '68 Camaro Pace Car done in Orange and White.
PhotoShop allows you to line up the front of the flames to exactly match the shape of the Hood.
Cleared with HOK Urethane Enamel and a dash of Brilliant Gold Pearl Powder, the cars change from Glossy White to Gold when taken out in the Sun.
Taillights and Headlight louvers are detailed.
Custom Cut Chrome Center Caps dress out the factory rims.
ALL Products Used Are Exclusively House Of Kolor, Of Course!!!!!!!!!!!!!!!!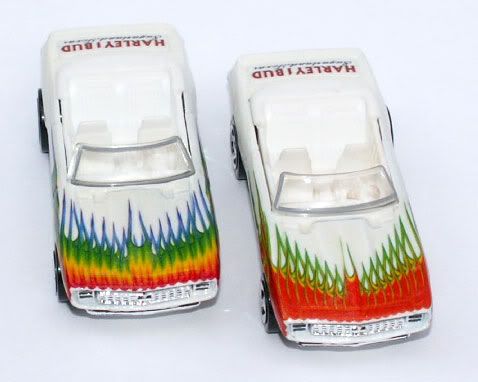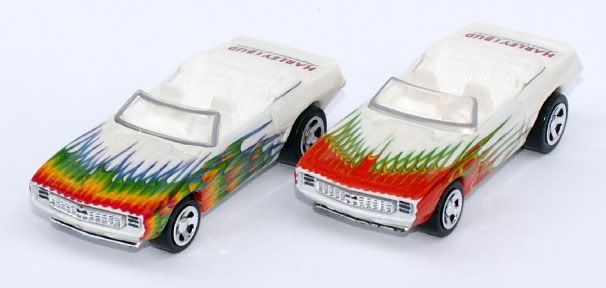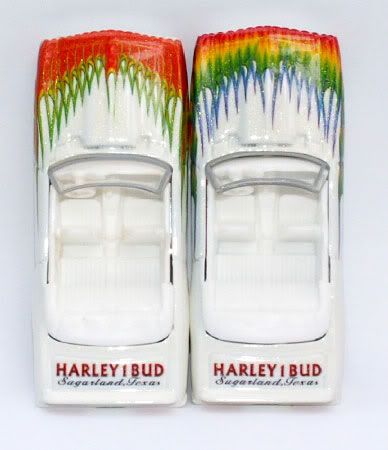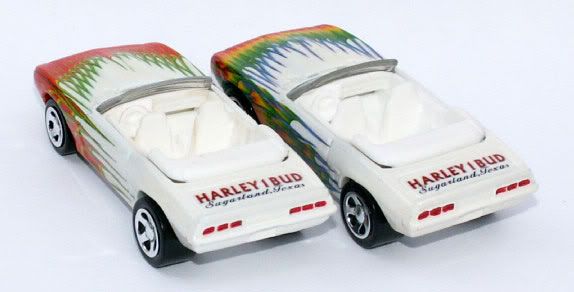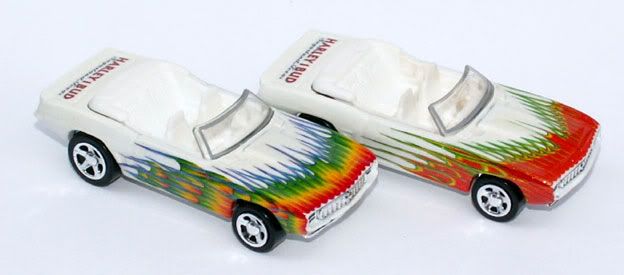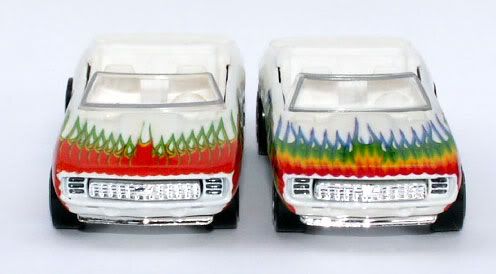 --CadillacPat the UnCustomizer--
Keeping the ZING in CustomiZING!!!!!!!!!!!!!!!!!!!!!!!!!!!