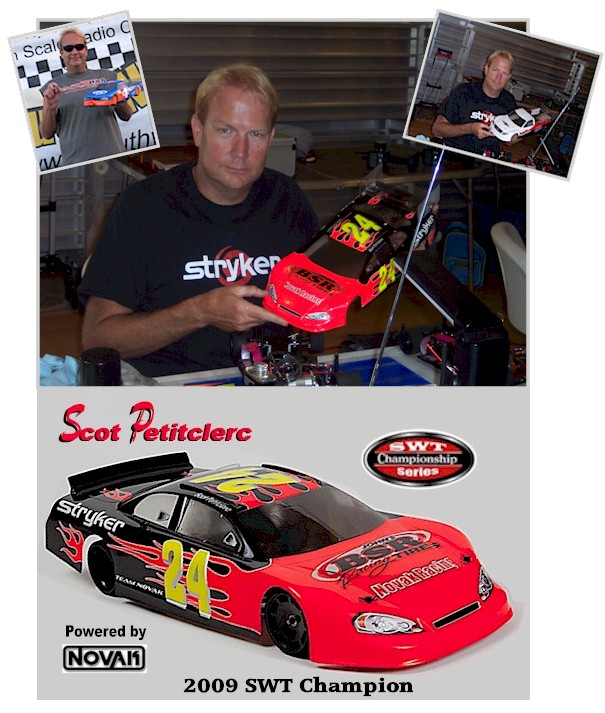 Scot Petitclerc has been a long time "West Coast" racer, and for many of those years you hardly even knew he was at the track.
Scot's a pretty quiet guy, friendly enough, but he usually hung out by himself and quietly worked on his car.
But, like a sponge, Scot would pay attention to detail and soak it up, and moreso he started accumulating a great set of notes to help him not have to keep things in his head.
Over the past 4-5 years the drive to run up front has cause Scot to work even harder, and even race other types of cars than just OVAL. He's also gotten involved with the design aspect creating the STRYKER car, which started basically as a conversion chassis for a Gen 2 KSG car, and has progressed from there.
This season in the South-West Tour Series, Scot became a (5) time champion of our series.
From back in the early years of the series when he won the 4 cell "STOCK" class, he's gone on to now win
4 cell STOCK
Sportsman Modified
Expert 10.5/4 cell
Nastruck - 17.5 (this is a 2 cell class)
EXPERT 21.5/2s Lipo
More impressive to me than Petitclerc winning the championships, is his ability to now run competitively with some of THE BEST DRIVERS on the West Coast - and WIN, or be right in the thick of things at the FINISH LINE!
Scot...
GOOD JOB!