Discussion Starter
·
#1
·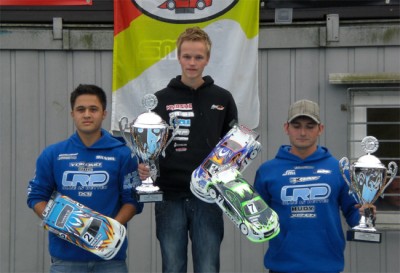 ​
The German Electric outdoor touring car Nationals were held last weekend at the Weser-Ring in Hann. Persistent rain destroyed the event for some national top drivers but the event was run regardless and in the Modified class, 16 year old Chrissi Krapp took TQ with a brilliant last heat, lining up ahead of Vice World Champion Ronald Völker with Steven Weiss 3rd. Winning the first two A-mains with his Team Orion powered Kyosho Stallion Shin edition, Chrissi once more demonstrated the form that gave him 8th place overall during this summer's European Championships. Yokomo team driver Ronald Völker took the runner up spot with Xray driver Steven Weiss taking the final podium spot in 3rd.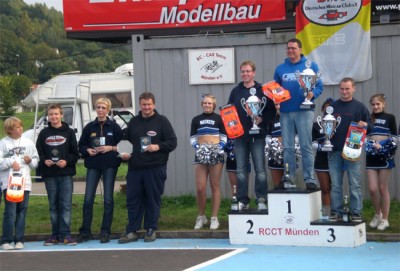 ​
The sport-class saw a great battle between Alexander Stocker and Daniel Wohlgemuth. In the end, it was Stocker who took the German National title followed by Daniel Wohlgemuth in 2nd and Oliver Näthe 3rd. The fastest man over the whole weekend, Thomas Mirke, was the unluckiest driver at the Nats. The wet-rules saw him start in the F-main, where he still was setting the best lap and overall-times of the weekend.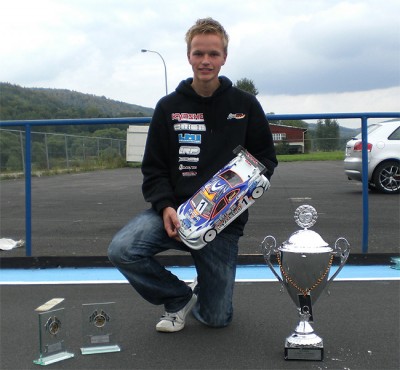 ​
German nationals modified:
1. Krapp Christopher
2. Völker Ronald
3. Weiss Steven
4. Südhoff Freddy
5. Bernklau Florian
6. Fleischmann Dominik
7. Sieber Daniel
8. Leinburger Steffen
9. Brück Stefan
10.Schönrock Pascal
​
German nationals Sport:
1. Stocker Alexander
2. Wohlgemuth Daniel
3. Näthe Oliver
4. Sakaguchi Dai
5. Baumkötter Malte
6. Botzenhart Florian
7. Speck Sascha
8. Bucher Fabian
9. Hennig Bastian
10.Spiering Michael
​
Thanks to Uwe Rheinard for the report.
</img>
</img>
More...