Dear All:
By living in Greece I witnessed the activities of one of the Major Greek vehicle producer,that being Biamax.
The name stands for Vehicle Body Building Industry but in reality that did not concentrated their activities in Bus Body Building only;other types of vehicles were made.One of the most known models is the 0-302S2 Transit and Coach buses which were a combo of the 0-302 and O-303 Mercedes Benz Bus models.
The original owners were,in the 1930's,importers if Mercedes Benz vehicles and by 1956 activities started by making bodies for Mercedes Benz buses;chassis would be developed by the 1960's.
This company which offered a large range of bus products would also be involved on railway wagon production,and assembly of other vehicles and were involved on other activities as well such as Research and Development and nowadays it operates on the real estate area only.
The R models series were introduced in 1960 and were the first unitary construction buses in the world (e.g.,no chassis) and came on interurban and coach format.
This is the R514 coach.
This the R495 Transit Bus bus.
This one I rode and remember vividly:1962 Biamax trolleybus with Lancia Suspenison (Lancia/Casaro and CGE electrical components) from 1960.I liked to ride it because I knew it was a very rare unit and was still running when I left the country.
As a chassis was developed by 1960,the most known models to be produced would be these ones:
Most of these buses were exported;there was a time that 50% of Biamax production was exported.There was also a rugged model for the Middle East,called the Biamax desert bus (1960's again) and some of them are still running over there.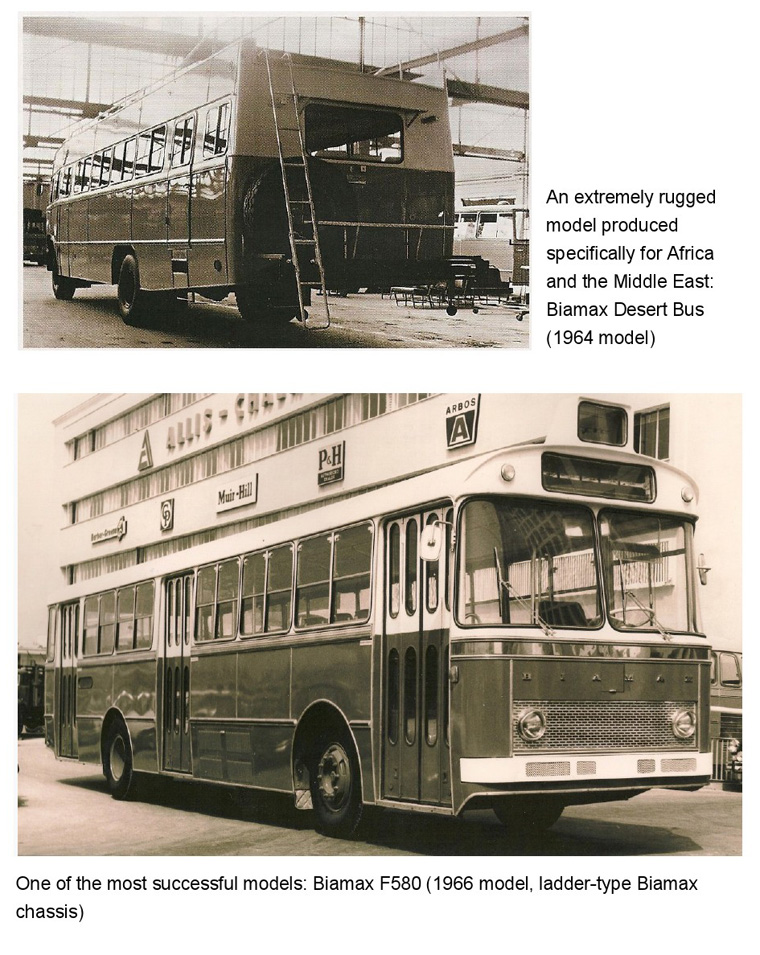 Desert bus (above) this being a 1964 model.
And finally the 0-302S2:
This site shows some of the greek bus bodymakers.Jane's Urban Transport Systems list some more besides these.
Buses in Greece