Discussion Starter
•
#1
•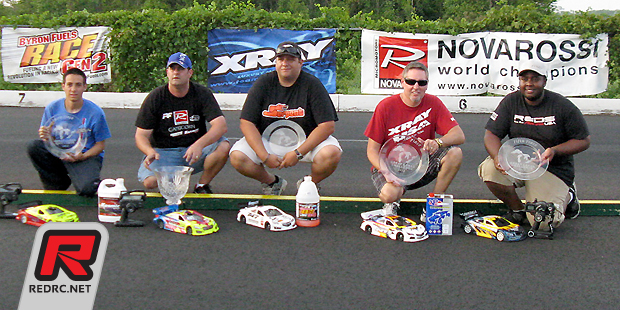 ​
The 14th annual Great Lake Challenge was held at the newly paved Woodville Mall track in Toledo Ohio. The qualifications were set to start on Friday with two round and three more rounds on Saturday, with the single best round counting overall. The GLC track is always a little tough on mileage and this year was no exception with the new pavement and high traction. Team Xray was well represented with drivers from all over the US to support one of the best races in the country.
During 1/10 sedan qualifying Ralph Burch consistently had the fastest lap times, but having to make a fuel stop due to mileage concerns in each of qualifying rounds would not allow for him to take the TQ position. Overall, the qualifying for the team went really well with Xray getting seven out of the top twelve automatic A main spots. Several XRAY drivers had an opportunity to bump from the B-main, with Diatta Collymore finishing in the top spot to add an eighth NT1 in the final. The start of the A main went well, but shortly after the start Burch had some mechanical troubles and dropped back to last. After fixing the problems with the car and being 6 laps down, he managed to work his way back to fourth on the same lap as the third place finisher.
1/10 Sedan result
1. Apolaro, DJ
2. Morganti, Paolo
3. Palazzola, Michael
4. Burch, Ralph
5. Colymore, Diatta
6. Woodson, Troy
7. Murnan, Uriah
8. Buchanan, Shawn
9. Brinson, Ashton
10. Fisher, Scott
11. Cruz, Mike
12. Hart, Elliott
13. Amador, Juan
14. Schultz, Ira

​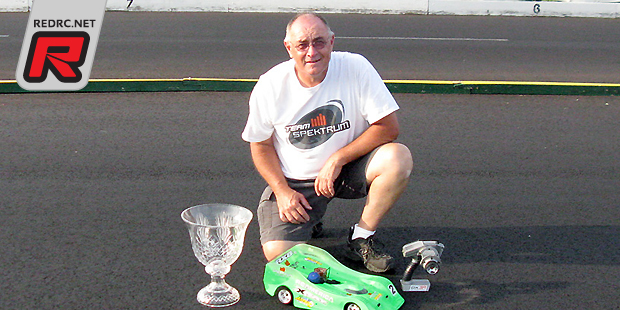 ​
In the 1/8th Master class Skip Starkey and Desoto Sr. were the class of the field. They would battle all through qualifying, but Skip Starkey with his Max powered RX8 would end up taking the TQ position. In the main, it would be the same two battling it out for the whole race, but again it would be Skip Starkey holding on to take the win.​
1/8 Masters result
1. Starkey, Skip
2. Desoto Sr, Joaquin
3. Davis, Rick
4. Rogers, Ted
5. Unger, Mark
6. Gottfried, Brent
7. Becattini, Paulie
8. Block, Bob
9. Esser, Greg
10. Carbonell, Art
11. Sweeney, Mark
12. Lee, David​
​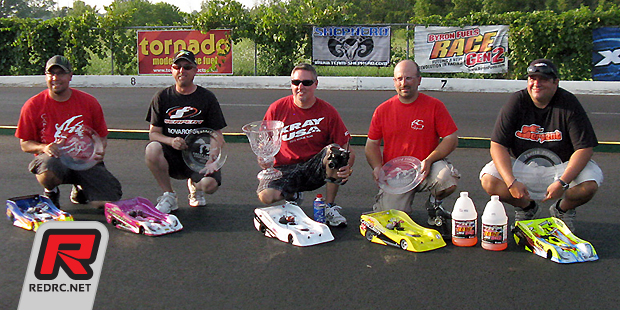 ​
The 1/8th open class had a fairly strong field with such names as of Paolo Morganti, Scott Kimbrow, Ralph Burch and DJ Apolaro attending. All through qualifying Burch, Morganti and Kimbrow would change position for TQ, but Morganti would end up taking the TQ position as he was the only one that could finish a heat without a fuel stop. Mike Pulfer and Joby Uchman also put their RX8's in the final. At the start of the A main, Kimbrow jumped out front and had a large lead after Ralph and Paolo got together on the start and leaving Burch laying upside down and nearly a lap down on the first lap. Burch would make a hard charge back to the front and cut Kimbrow's lead down to just a couple of second before the mid race tire change. After both drivers made their tire stop the battle was on until about ten minutes to go when Kimbrow flamed out. Burch simply put it in cruise mode after that point and brought home the victory for RC America and Xray.​
1/8 Open* result
1. Burch, Ralph
2. Kimbrow, Scott
3. Ciccarello, Paul
4. Morganti, Paolo
5. Zuccarell, Jeff
6. Vanderway, Louis
7. Palazzola, Michael
8. Pulfer, Mike
10. Desoto Jr, Joaquin
11. Hammer, Ted
12. Rott, Terry
13. Uchman, Joby​
​
1/8 GT result
1. Desoto Jr, Joaquin
2. Lino, Rino
3. Rodney, Mark
4. Nix, Robert
5. Palansky, James

​
Source: Xray [teamxray.com]
More...