Discussion Starter
·
#1
·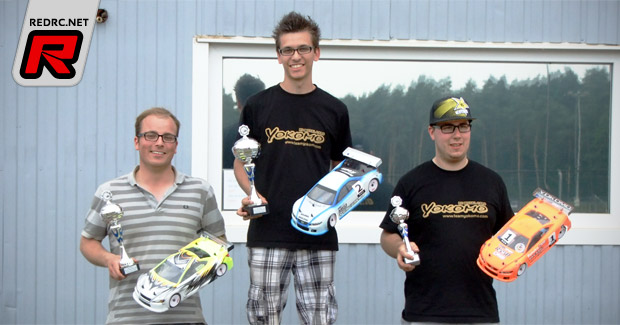 For the last race of the Belgian touring car season the drivers went to Genk. It was marvellous weather and everything was still open in the Efra and Stock classes. Thomas Stockman wanted to be the new champion and already had a splendid year in the nationals. But it was Olivier Bultynck who set the pace and took TQ in front of Nick Joosens and Thomas Stockman. Patrick Jongenelis an Gerrit Van Swijgenhoven took fourth an fifth place on the grid. Olivier was very fast at this track and was on the run for his fourth title in a row. In the first final Ollie went away from the rest and secured his win. Behind him Nick was in a fight with Thomas. Thomas took second place for a short time but Nick came back and took second place. Thomas came in as third just behind Nick.
The second final was a disaster for Ollie, in the first lap his car stopped in a corner. The motor broke and this final was over for him. Nick was now in the lead and pulled away from Thomas. For third place it was Gerrit Van Swijgenhoven who was in a battle with Rico Claeys. Gerrit made a mistake in the last lap but could hold Rico behind and took third place. Nick took the win in front of Thomas.
The third final would decide the race of today and the championship. We saw Ollie and Nick were the fastest men at the track and pulled away from the rest. Thomas could not follow and was three seconds behind. But in the last lap in the sweeper at the end of the straight Ollie's car made a slide and stopped in the grass. Nick passed by and took the win. Also Thomas passed by and came in as second. Ollie lost seven seconds and took third place. Ollie was the new champion with this result but he was a little disappointed because he wanted to take the title in style with a win in the last race. Overall result was Nick Joosens (Yokomo) winner, Thomas Stockman (Xray) second and Olivier Bultynck (Yokomo) third place.
Source: Swingman [google.com]
More...