Discussion Starter
·
#1
·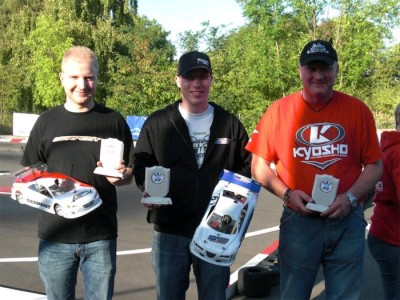 ​
The first round of the new NRW Challenge (NRW = German state North Rhine-Westphalia) saw Mugen driver Sebastian Buerge winning the 1/10 nitro class and Serpent driver Tobias Hepp catching the victory in the 1/8 nitro category. The race at the permanent track of RMC Dueren close to the Belgian border was held in memory of Dieter Weck and Mike Derwall, two RMC club members and regular 1/10 nitro racers which passed away both in July following a heart attack.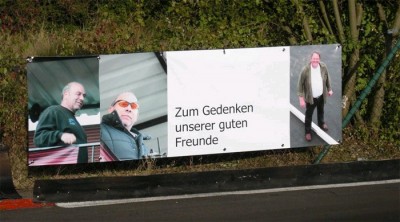 ​
It was Kyosho drtiver Andy Weyhofen who caught pole position in the 1/10 category followed by Sebastian Buerge (Mugen) Bernd Rausch (Kyosho) and Daniel Toennessen (Mugen). Only these four drivers completed 19 laps in five minutes on the 230 meter circuit which has been built on a former Belgian military area many years ago.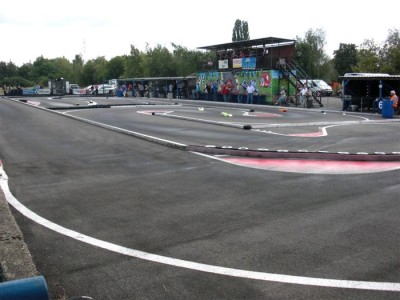 ​
In the semifinal B Uwe Baldes (Xray) and Detlef Kueppers (Mugen) were leading for a while but sudden engine cut-offs obviate both to climb into the final. After 30 minutes it was Marco Muscara (Kyosho) and Klaus Vollmert (Xray) which took first and second position. Semifinal A was a bit faster and finally the top four made it into the final: Xray racer Joerg Baldes won ahead of Udo Tappertzhofen (Kyosho), Benjamin Lehmann (Serpent) and Michael Hetzel (Mugen).
45 minutes were a long time to race for the finalists but – as the 30 minutes semifinals – gave lots of track time to all competitors. Finally nine 1/10 racers saw the checkered flag of race director Markus Puetz who was assisted by Nicole Boers and Arno Puepke in the time keeping. After 162 laps it was Sebastian Buerge winning with a four lap advantage over Benjamin Lehmann. Pole-sitter Andy Weyhofen was another two laps down and completed the podium. Marco Muscaro, Bernd Rausch, Joerg Baldes, Klaus Vollmert, Udo Tappertzhofen and Michael Hetzel came in on fourth to ninth position while Daniel Toennessen retired after 20 minutes following a crash.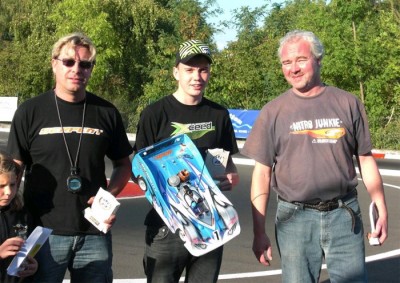 ​
25 competitors entered the 1/10 class, the 1/8 class saw only eight drivers at the start. This wasn´t a big surprise because the track of RMC Dueren has not seen any official 1/8 race for many years. But following the re-design and new pavement of the track one year ago this weekend has shown that 1/8 cars suit quite well onto this track.
Tobias Hepp took TQ with 20 laps in 5.03,501 minutes which was more than a lap quicker in comparison to the 1/10 TQ of Weyhoven (19/5.08,369). Hepp was followed by Frank Schewiola and Ralf Vahrenkamp in the three rounds of heats. In the 45 minutes final race Hepp did 172 laps, ten more than 1/10 winner Buerge. As after the heats it was Hepp in front of Schewiola and Vahrenkamp which made it an all-Serpent podium.
Round two of the NRW Challenge will be held on 26/27 September at Oberhausen, the finale will take place on 17/18 October at Bad Breisig.
</img>
</img>
More...