Discussion Starter
•
#1
•
"Blue Heaven"
Turquoise Far Out Flames on Shimrin White,
The little HW 1966 Nova is a well made casting.
Then as a bonus it comes with white interior and blue windows, now how lucky is that?
Like other castings whose grille is attached to the base, the Nova allows a full front cap wrap.
Body is filed clean of casting imperfections,
Window openings and wheel wells are filed and sanded smooth.
The whole body gets sanded lightly with 220 and then rubbed down with #3 Steel Wool.
Brushed with a soft Brass Wire Brush to remove any remaining debris it's then washed and dried with a chamois so as to avoid leaving any lint.
Primered and then the roof is shot Shimrin White and then Zenith Gold.
Roof is InterCoat Cleared, taped, and then the body is shot Shimrin White.
Custom fit Far Out Flames are created in Turquoise Blue to perfectly fit the Hood and both Sides.
White Lettered Real Riders from a HW '32 Roadster get 5mm Chrome Center Caps turning them into the deep Chrome Reverse Rims from the 60's and 70's.
This turns a fair looking wheel with open end axles into a great Custom Wheel.
Front and Rear Windshield trim and Taillights are detailed.
Rivet Reassembly for that permanent clean factory look.
ClearCoated with House Of Kolor Urethane Enamel Clear and a dash of Brilliant Gold Pearl Powder.
All Products Used Are Exclusively House Of Kolor, Of Course!!!!!!!!!!!!!!!!!!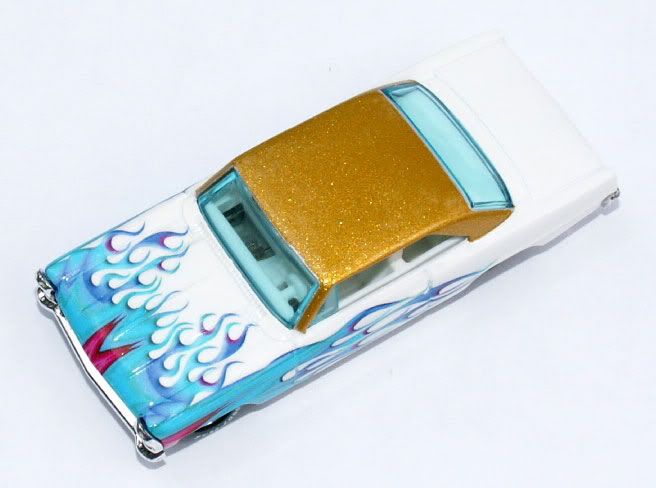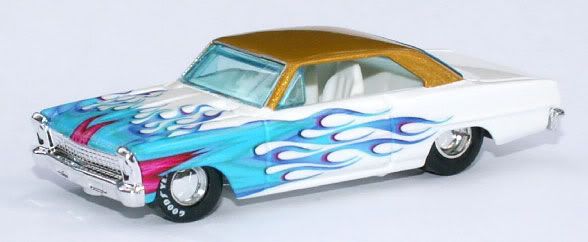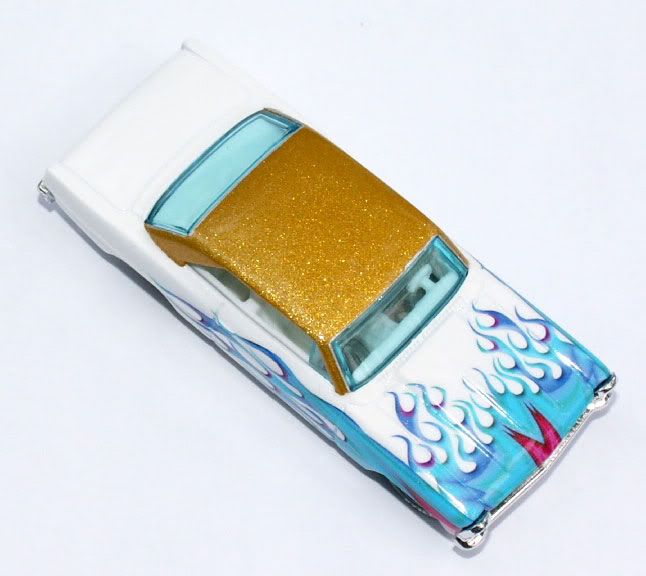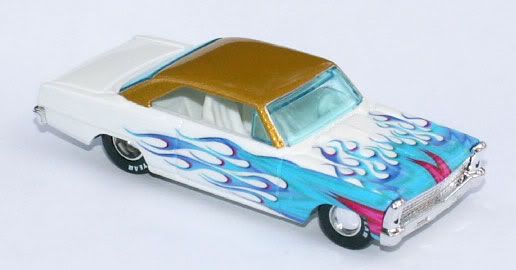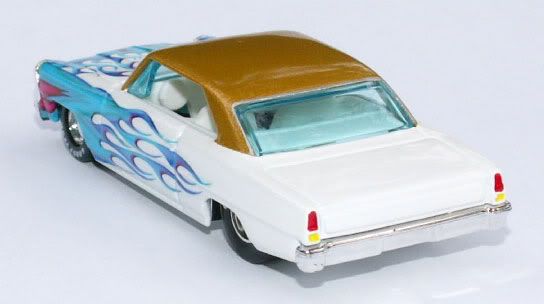 Pics of 3 other new '66 Novas, all with new Far Out Flames as soon as I can post them.
--CadillacPat the UnCustomizer--
Keeping the ZING in CustomiZING!!!!!!!!!!!!!!!!!!!!!!!!!!!!!!!!!!!!!!!!