Discussion Starter
·
#1
·
Pat
I'd like to know exactly what question(s) you have for me that are so important that you feel the need to call me at home at all hours of the night these past three nights while I'm sleeping?
Here are the days/times you made calls to my house.
2-27-2007...3:38AM, 4:14AM, 4:42AM
2-28-2007...2:21AM, 3:24AM, 3:56AM
3-1-2007...1:51AM, 2:52AM, 4:36AM
The funny thing is the first night that you called my sister was here and happened to answer the phone all three times and you didn't ask for me or say a word.
Before you attempt to say it wasn't you I have to say that technology is a beautiful thing. In case you weren't aware the phone company has a service they provide called CALLER I.D. When a call is recieved certain information is recorded on the phone screen...things like the name of the caller, phone number, and it's date and time stamped.
When I got up the first night after you called I checked the caller ID and it had the name Perry Parker on the screen and a Houston area code. When I got on the computer I looked up your Outlaw website and there at the bottom of the page is alll your contact info with your name, address, and phone number...coincidentally the same number that showed up nine times on my caller ID these past three nights.
Here's a small sample of what I'm talking about.
This is a photo of the screen for 2-27-2007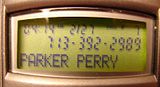 This is a photo of the screen for 2-28-2007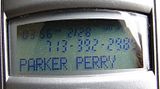 This is a photo of the screen for 3-1-2007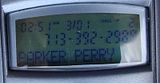 Finally is a screen capture of your contact info off your website.

Now before you try to claim the photos are all the same only with the data switched in Photoshop...I purposely took all the photos under different conditions so they wouldn't all look the same.
So what exactly did you need to ask me Pat? I can help out and eliminate some things like...
No I don't want to pay $100 to be in your Custom Outlaw Club.
No I don't want any give away cars.
No I don't want any Texas Club Car you're making.
No I don't want any House Of Kolor paint, manuals or merchandise .
Pat I expect not to get any more late night calls from you after the ones from these past three nights.
I also expect not to get any nasty emails that you are accustomed to sending everyone.
Jerry