Discussion Starter
·
#1
·
The very rarely seen HW 1963 Chevy Impala from the Affinity Series about 5 years ago.
Customized here in Apache Summer graphics using my new Far Out Flames.
While searching inventory for more HW 1964 Impalas I found a box of these 1963 Impalas I bought at a HW Convention years ago.
Originally about 4 bucks these are very clean, well made castings.
Some came with Gold Bases and Gold Wheels and some with Chrome Bases and Chrome Wheels.
This one with a Gold Base has Gold wheels that get Customized with some of my 6mm Custom Cut Chrome Center Caps.
Similar to the '47 Chevy wheels I posted, these '63 Impala Gold Wheels retain a thin sliver of Gold showing after the Chrome Center Cap is applied.
Just like a Gold beauty ring.
The Chrome Center Cap reflects the Gold and shifts from Chrome to Gold as you change the angle of the car.
The open end axles get covered up for a nice finished Custom appearance.
Filed, sanded and rubbed down with #3 Steel Wool.
Primered and then the roof is shot Shimrin White for a nice bright base color.
Then the roof is shot Molly Orange and InterCoat Cleared for taping purposes.
Roof is taped and then the body is shot Shimrin White.
Decals are applied for a full front cap wrap.
Front and Rear Windshield trim is added.
Headlights are detailed,
Center Caps Customize the factory wheels.
ClearCoated with House Of Kolor Urethane Enamel Clear and a dash of Brilliant Gold Pearl Powder.
All Products Used Are Exclusively House Of Kolor, Of Course!!!!!!!!!!!!!!!!!!!!!
Here's a pic of the original factory car right out of the blister for comparison,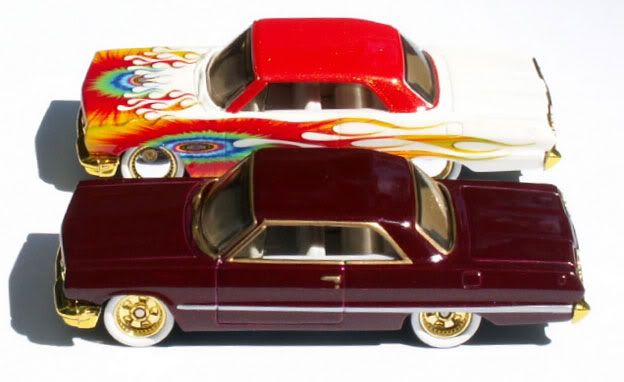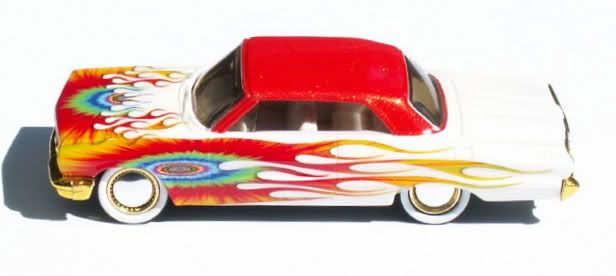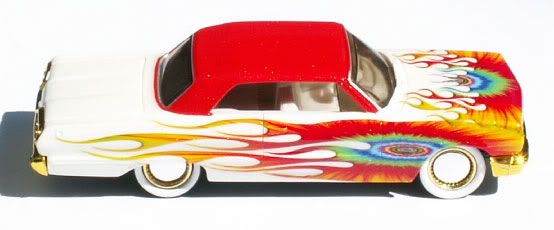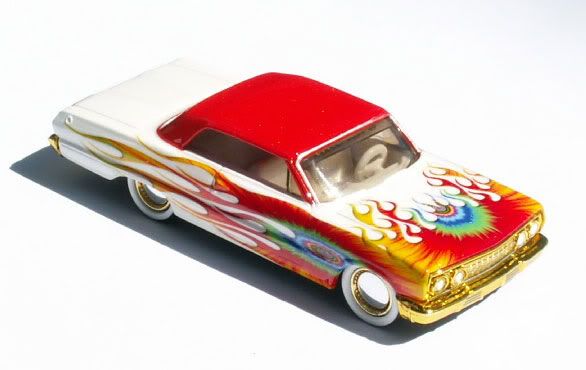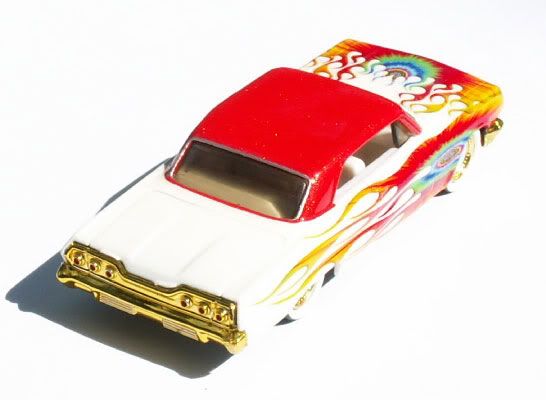 The Urethane ClearCoat is curing on 2 more '63s and a bunch of '64s are finished awaiting pics.
All done in different versions of new Far Out Flames.
--CadillacPat the UnCustomizer--
Keeping the ZING in CustomiZING!!!!!!!!!!!!!!!!!!!!!!!!!!!!!!!!!!