I have seen these American Classics sets by Motor Max on the Walmart shelves for quite awhile now... Last night I decided to buy one... As soon as I got it home I had to do some serious changes to the Mustang that came on the trailer... BOY, did I get into a job... It had funky looking stock wheels that stuck out way too far, those had to go... Converting the chassis so these other wheels would work was a night-mare, but I got it together...
The set came with this 37 Ford truck, a diecast trailer, and this 64 Mustang!!!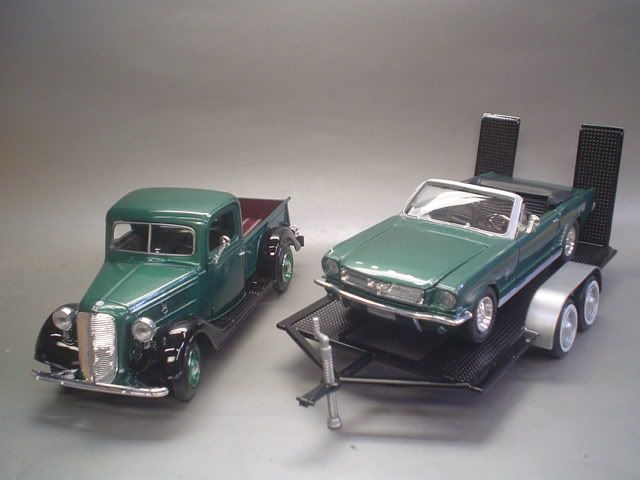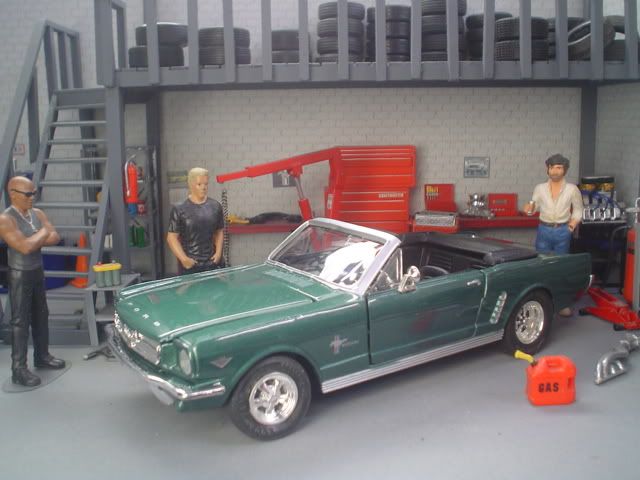 The set was $19.97... I bought this exact trailer as a kit under the Testors brand name awhile back... Now Motor Max has it... I had to paint all the screws black so they didn't show as much...
The hood also comes off the truck, it has a cool old flat head...
The engine in the Mustang was pure black with a blue air cleaner and blue valve covers... In 64 the small block Fords were gold colored, so this one got painted with some detail to follow later... Also this engine has n alternator, in 64 only difference from a 65, was the 64 Stangs had generators... Gott a change that when the detail stages come around...
All in all it is a pretty cool set if ya wanna do some changes here and there, like I have alot pf plans for the Mustang with alot more detail here and there... I got rid of the green rims on the truck too... The greens didn't match at all !!!