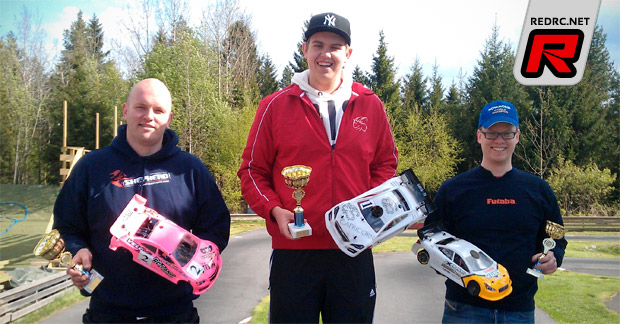 6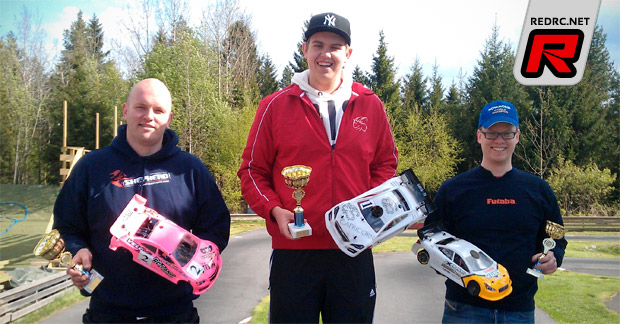 The opening round of the Norwegian 1/10th scale 200mm Nationals took place last weekend and Adrian Bernsten sent us this report. After been doing some testing with my new Capricorn LAB C02 I was ready and looking forward for my first race in Norway for this outdoor season. This first round of the Norwegian national series was held at Geiteryggen racetrack in Skien and saw 19 drivers attending. The track had pretty low traction and was very bumpy so it was important to be fully concentrated on the driving throughout the whole runs. The track conditions were also changing a lot during the day as the temperature rose a bit from the morning.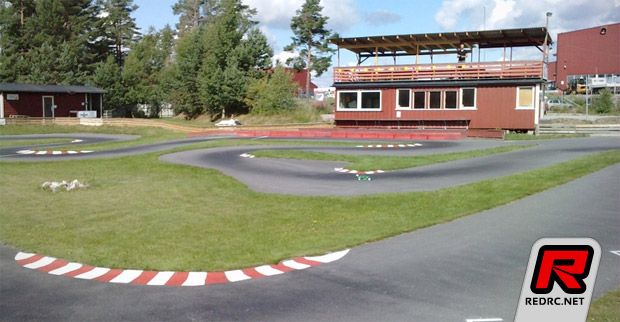 So when the first qualifying started, the temperature was low and the track was much faster than it turned out it would be later in the day. I had found a good setup so when the qualifying started I quickly took the lead and kept it until the end, setting new lap record on the track twice in the run. I finished my run in 34 laps in 7:07:363 in front of Georg Ellingsen who took 2nd spot with 33 laps in 7:12:438. Due to the changing conditions these times were going to stand as the top 2 spots also at the end of the qualifying with Joakim Nicolaisen taking 3rd spot with 32 laps in 7:02:395 and Helge Johannesen in 4th position with 32 laps in 7:04:901.
As all drivers had to drive semifinals, those finals were used to test tire strategies for the final. With the tire wear being pretty low I used the semifinals to run on soft tires to see how low shore I could use in the final. My car and engine felt really good throughout my semifinal and in the end I finished 4 laps ahead of Joakim Nicolaisen, and also 4 laps ahead of Helge J. that won the other semifinal.
In the final I could cruise into victory, even with two small mistakes, winning 8 laps in front of Helge Johannesen in 2nd, and Oyvind Stusdal finishing in 3rd.
Top 10
1. Adrian Berntsen
2. Helge Johannesen
3. Oyvind Stusdal
4. Georg Ellingsen
5. Bjorn Dahl
6. Knut Enger
7. Ole Bro
8. Joakim Nicolaisen
9. Trygve Bull Freng
10. Christian Hovden

​
Thanks to Adrian Bernsten for the report.
More...