Discussion Starter
·
#1
·
So we went out for an overpriced dinner (way too much cost for basically institutional food...), and since we were out, on a whim I drove to Toys 'R Us. Now our TRU so far as we know wasn't going to restock their Hot Wheels. After all, it seemed as if they hadn't every time we stopped in between now and Christmastime.
I pulled in, saw I had half an hour before they close, told my wife I would just go and see if they had restocked anything interesting. She knows I want to quit Hot Wheels and Matchbox, so I told her I just wanted to see if they had anything worth saving pennies for. I hoped, in fact, to find some of the Nose Art cars, but no luck.
I asked my son if he wanted to go with me, since his mom was waiting in the car.
"Nah."
"You sure?"
"I'll sit with mom."
"You know if I come out with a treasure hunt, you'll hit the roof."
He shook his head. My wife agreed with me. She's seen it before.
I went in, I came back out with a bag. My wife was shaking her finger at me as I crossed the parking lot ("quitting Hot Wheels?" she seemed to say, or maybe "you said you wouldn't buy anything").
As I come up to the car, I hear my son:
"That's just an empty bag."
Apparently, I've pranked my son just a few times...
"No, It's a '52 Chevy Treasure Hunt Pickup and a Hidden Ford Fairlane."
I hand him the bag, and yes there are two cars in it: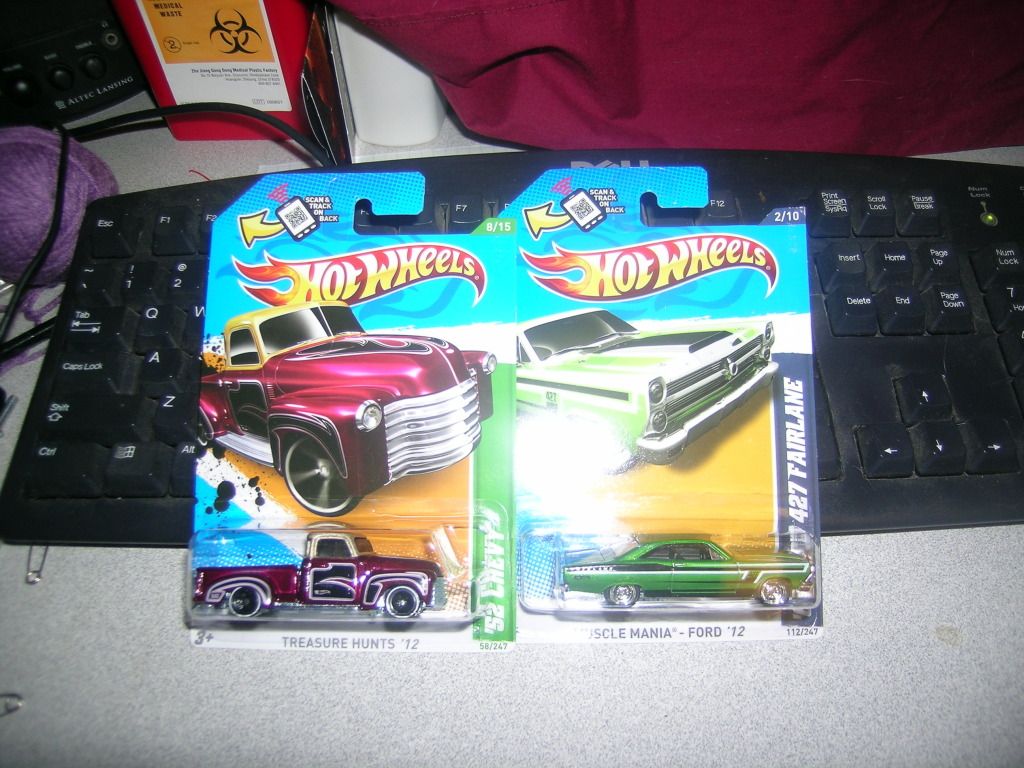 "No way he found a hidden!"
I just smiled, got in, started the car.
"Well," he says, "the tires are rubber, but I don't see the TH."
"Look on the trunk."
"He found a hidden super!"
Now he is unhappy with me. He won't go looking for T-hunts because he never finds them. When I reminded him he could have gone in, he said that it would have just meant we found none of them. Oh well, he had his chance. Maybe next time I offer, he'll go.
Now, I am very jazzed. This is my first Super Hidden. I am very happy. I despaired of ever finding one in the wild. Now I can stop collecting Hot Wheels altogether without it nagging me that I never found one. (Of course, I won't pass up the racks, I'll still thumb through them, I just won't go out just for HW anymore.)
But I need to know this: Is the Fairlane considered an error, on top of it all?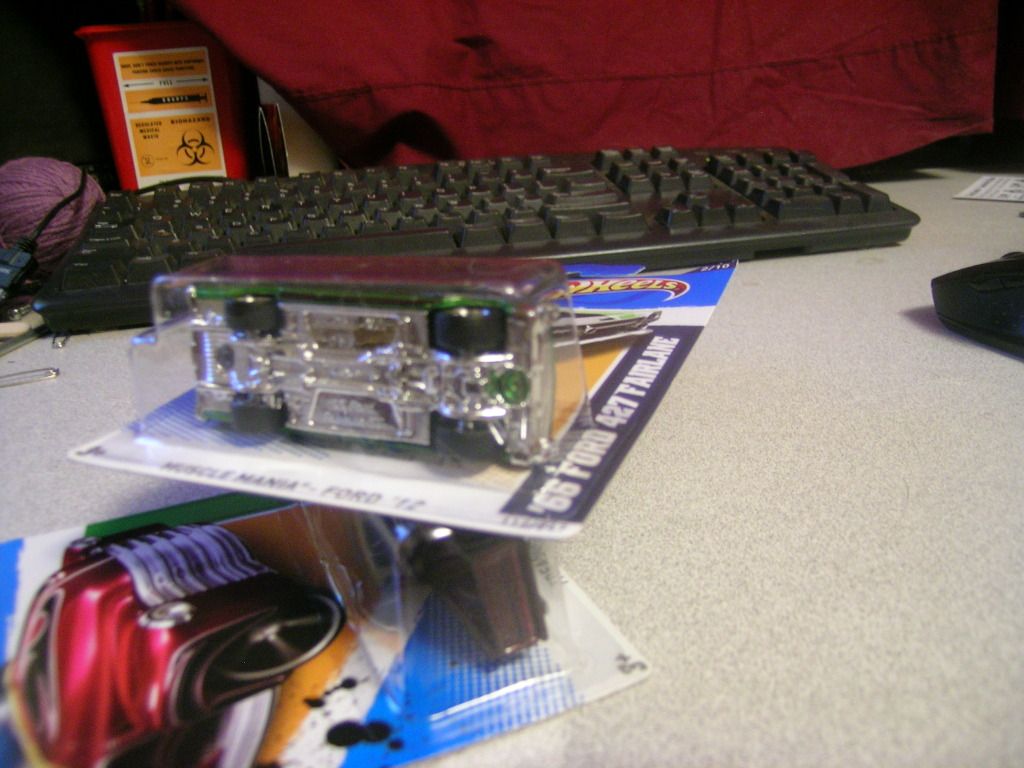 I am having trouble getting a really good pic out of our camera, even close-up mode isn't helping. This is the best of several I took. Look on the driver's side wheels. There is still some flashing from the die-casting process in front of both the front and back wheels.
Error or not, I'm still happy, I'm just curious.