Discussion Starter
·
#1
·
These little '63 VW's by Jada make great canvases for display.
I removed the Luggage Racks and drilled out both the Headlights and front Blinkers to set them both with Rhinestones.
I designed the oval Taillights in PhotoShop with the Brake lights set inside the Blinkers.
1/64 Pinstipe tape separates the colors.
Chrome Windshield trim and Chrome and Gold tape trims the Cab roof.
Both were first shot with Adhesion Promoter and basecoated with Shimrin White.
Then comes SnowWhite Pearl followed by Intercoat Clear.
The LimeTime Pearl is Cleared with a dose of Brilliant Gold Pearl powder and the Lemon Yellow is cleared with a dose of Yellow Pearl powder on top and Brilliant Gold Powder on bottom.
All HOK products, Of Course!!!!!!!
I thought I'd try my hand at designing some of my own flames.
All you really need for designing great flames is a French Curve and a good drafting pencil.
There is absolutely nothing complex or involved about designing and drawing your own flames.
Then just scan them, cut them out in PhotoShop with the Magic Wand and your in business.
I like the perfect smooth lines of a crisp image that well made Decals offer.
They were beveled and contoured in PhotoShop for a 3D effect.
These are Cars #5 and #6 of a 10 car set.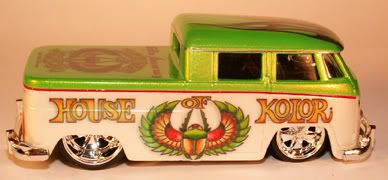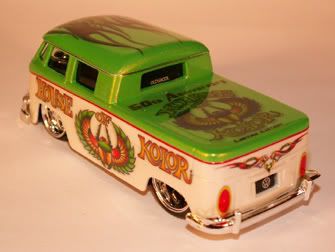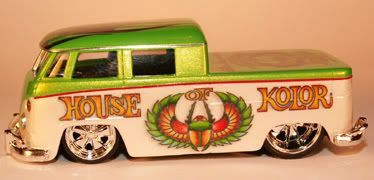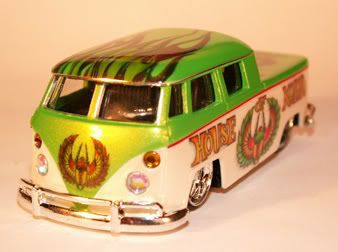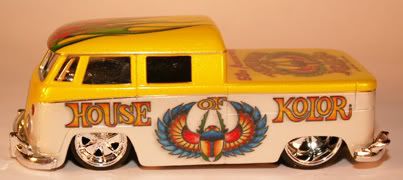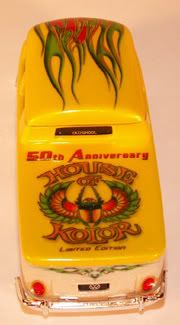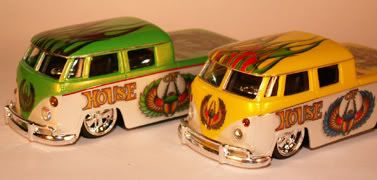 --CadillacPat the UnCustomizer--

www.CustomOutlaws.Com