Discussion Starter
·
#1
·
Good evening race fans James T. Jet here for HOTV with complete coverage of the 2012 Ultra G Cup Race from GreenRun Speedway in chilly Virginia Beach, VA. Covering the round 1 of this year's race we have our color infield announcer Smokey Hughes and HOTV camera lady Aurora Cannon. But before we get started here a word from our great sponsors.
BRP
- Home of so cool ho resin bodies. Check out Tom's latest creations here:
http://www.bat-jet.com/
Bubba's Racecar Shells.
Resin TJETs bodies. (Don't know if he has a web site will find out)
Buds HO Cars
- Great website, Great prices and Great selection that's Bud check out his online store here:
http://stores.budshocars.com
C & R Racing
- Makers of most excellent waterslide decals. Take a look here:
http://http://www.candrhoracing.com
JAG Hobbies
– A great online Hobby Shop has everything you need for racing and cruising and modeling your favorite HO cars. Check Jim's selection out here:
http://www.jaghobbies.com
JW's TJET Speed Parts
- If you have a need for speed or just plain want to improve your TJETS check out Alan's offerings here. Great tools he even has a speed shop at Green Run Speedway.
http://jwhospeedparts.com/
MEV
- Mike does TJETs right. Some the best TJET bodies in the HO universe. Got to love his racer series bodies. Check out MEV's latest here:
http://www.tjets.com
RMT Customs
- Model Car Magazine on DVD. Check them out at:
www.rmtcustoms.com
Slot Car Express
– The are a brand new sponsor for GreenRun Speedway. They carry stuff for 1/32, 1/43 and 1/64. Some urethane tires that will be tested this week end. Also a nice selction of lubricants and cleaners. Check out their website at:
http://www.slotcarexpress.com/index.html
Let's go to Smokey in the infield.
Thanks TJET fans. On the pole is Corrie Motors with a black GT40 and it came out screaming and turned in 12 laps and 8 sections. Aurora caught this shot of them at the end of Round 1 in turn 2.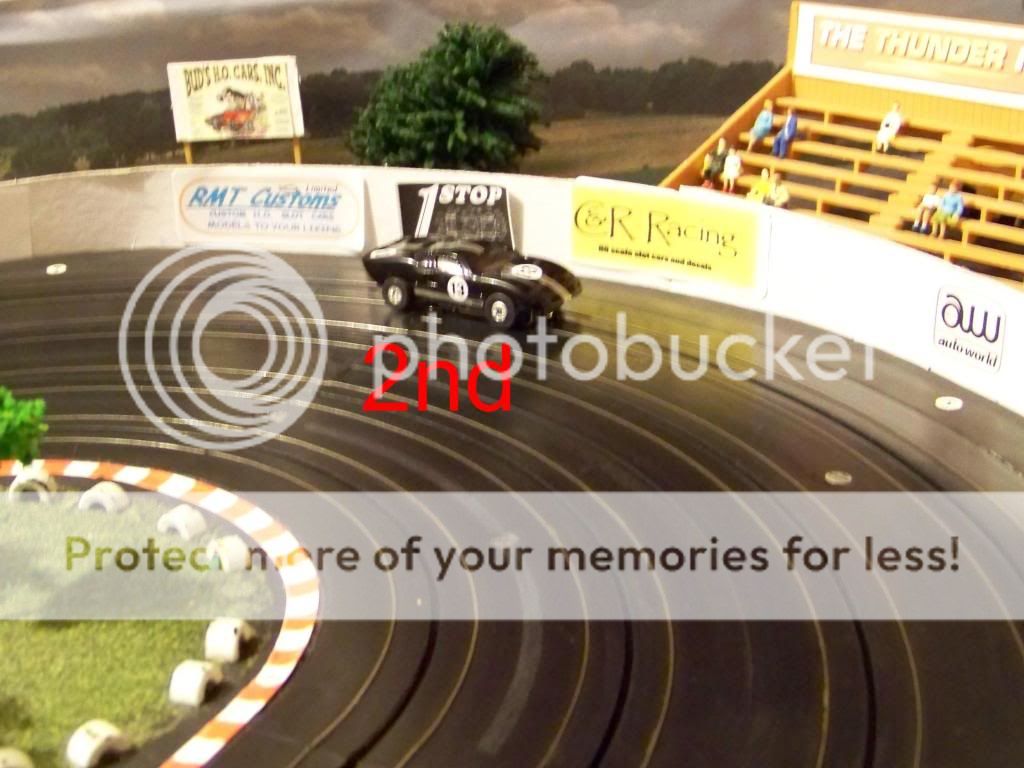 Next out was Team Clyde-O-Mite's Hot Rod number zero which turned in 12 laps and 3 sections. Miss Cannon caught a shot at the end of Round 1 along with Team Angelis and just coming down the back stretch Team Vanelli's Camaro.
Team Clyde-O-Mites Cheetah tore up the track during Round 1 and turned in 12 laps and 12 sections. Aurora caught them on the back stretch with Team Placebo coming up on Team Vanelli's GT40.
Here is a look at the leader board and how they stand now.
POS
Start Pos
Team
Best Time
Laps/Sec
1
3
Clyde-O-mite # 2
2.251
12/12
2
1
Team Corrie Motors
2.318
12/08
3
2
Team Clyde-O-mite # 0
2.369
12/03
4
6 Te
am Vanelli #10
2.588
10/22
5
4
Team Vanelli #23
2.610
10/13
6
7
Team Placebo # 13
2.757
10/12
7
5
Team Angelis # 230
2.623
10/04
Back to you James.
Thanks Smokey and Aurora. Looks like its going to be some tight racing. Next round will be on orange lane and things should be interesting. Thanks again to our great sponsors stay tuned to HOTV we will be back with Round 2 tomorrow night. Good night and God Bless.