Discussion Starter
·
#1
·
This 2nd Annual version of the Texas Clubs Car comes in the form of the 1970 Plymouth SuperBird.
Each car is filed and sanded of imperfections and then shot with Adhesion Promoter and basecoated with Shimrin White topped with a SnowWhite Pearl color coat.
Decals and details are applied and Clearcoat includes a dose of Brilliant Gold Pearl powder.
All HOK products, Of Course!!!!!!!
A special Texas Diecast Collectors Clubs decal tops the roof and Turquoise Blue flames wrap the front cap.
Details include Taillights, front and rear windshield trim and Center Caps on the rims.
As each Club receives their cars they'll find them in a Clamshell ProtectoPak with a special card.
The addition of the red trim on the wing balances out the colors and gives it a Nascar flair.
Thanks to FlaminGraphics for the basic design of the flames which were then altered in PhotoShop.
Rivet reassembly.
These are just the first few out of the oven.
Since they share the same basic basecoat as a bunch of Dairy Delivery's I'm doing it's easy to mix them into the process.
Another great little bunch of MOFO's.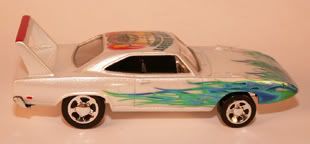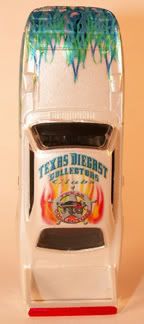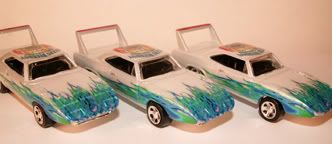 --CadillacPat the UnCustomizer--

www.CustomOutlaws.Com