Discussion Starter
·
#1
·
After a rain out of Friday's practice day, the Saturday practice and race schedule was modified to race all 3 rounds of qualifying and the lower mains on Saturday with the optional rain day of Sunday used to race the "B" and "A" mains!
Lance Norrick and the Farm crew did a great job of getting the track ready for some serious racing action and the track was hooked up! That is why the Farm is the top off road track in the USA right now!
After 3 hard fought rounds of qualifying Doug Tudor and his Novak powered Losi XXXT TQed all 3 rounds followed closely by Barry Petit's Novak powered Associated T-4 and Dennis Allison's Novak powered Associated T-4.

The 15 truck field was filled after a hard fought 15 minute "B" main early Saturday mourning with the track frozen and ice in several spots on the track that did not seem to bother Victor Digiuseppi and Timothy Habiuk from making the bump up to the "A" main.
Here is most of the 15 truck "A" main boys getting ready for battle!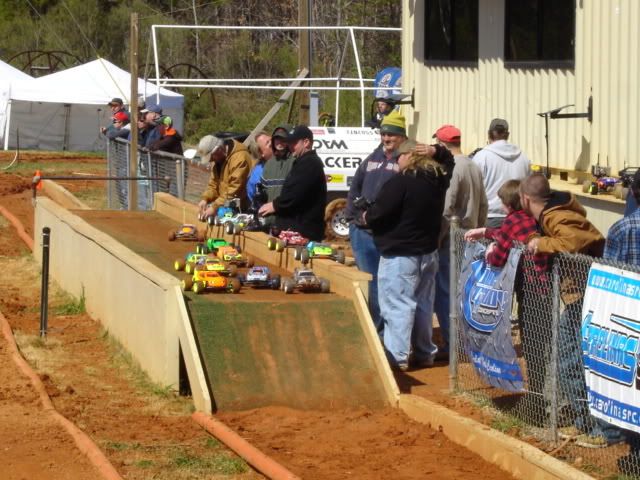 The 20 minute non-stop "A" main started with Dennis Allison leading the first lap that followed with Richard Medlin leading the next 2 laps that swapped around several times each lap that included Doug Tudor and Derreck Martin taking command on lap 4 leaving the Doug, Dennis, Richard, George Hagy and the Barry Petit who caught up after a rough start to make it very tight 5 way battle for 2nd place swapping the position around several times allowing Dereck Martin to stretch out his lead in the top spot. Richard and Dennis experienced some breakage and fell out.