Discussion Starter
·
#1
·
"1970 Chevelle Wagon on FIRE with Far Out Flames"
When I first saw the HW '70 Chevelle Wagon on the pegs I thought," Man, what a big dog!!!!!!"
That putrid translucent yellow enamel paintjob from the factory made me think one thing," Are the Designers allowed to talk to the people who pick out the colors for these cars?"
Maybe the castings headed for the paint booth late on a Friday afternoon and someboy said,"I don't care, just pick anything and paint them and put them in the boxes".
But,
When you strip this little jewel you realize how well made the casting is.
What a shame it was released painted in thick dripping Pale Vomit Yellow.
Cream Corn anyone??
Cleaning out the windows by filing and sanding them smooth paired with cleaning up the nose brings this baby around to acceptability.
Wheel Wells and the roof get filed and sanded smooth.
Simulated Hood Pins are removed to facilitate better Decal conformity.
Johnny Lightning Speed Rebel wheels replace the factory tires.
Primered and then the roof is shot Shimrin White and then LimeTime Pearl.
Roof is InterCoat Cleared, taped, and the body is shot Shimrin White.
Decals are applied,
Front Windshield trim and headlights are detailed along with door handles.
Sadly this issue came with black interior which would have looked terrible with my paint scheme.
If I had my way all HW's would come with White or Tan interior.
The Black Interior was dusted with Duplicolor Adhesion Promoter and then shot a special mix of Avocado Green protected with Intercoat Clear and a dash of Duo Green/Yellow Pearl Powder to reflect a little more light that enters the cab.
A nice clean Custom Paintjob changes this from a beached whale to a heavy beast that will get up and go.
All Products Used Are Exclusively House Of Kolor, Of Course!!!!!!!!!!!!!!!!
Decals printed on Clear InkJet Decal Paper from Papilio.com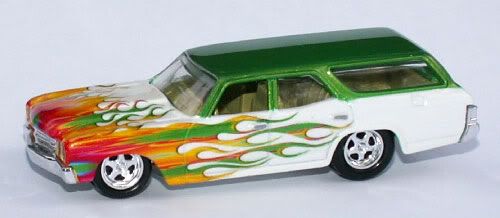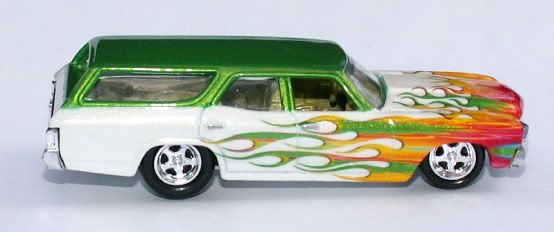 The white specs are minute particles of Gold Pearl reflecting the flash,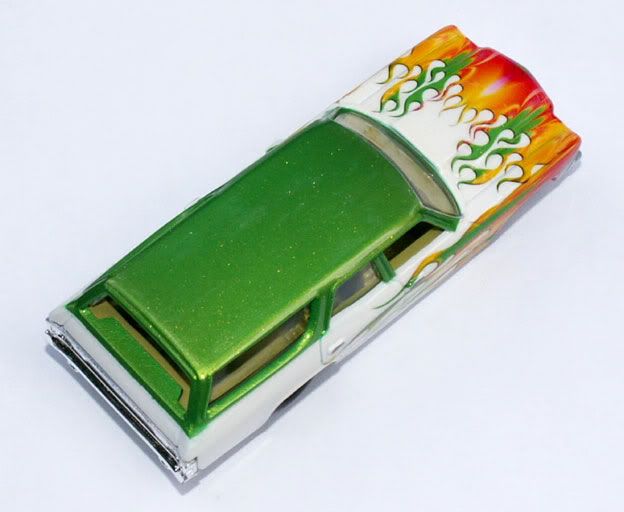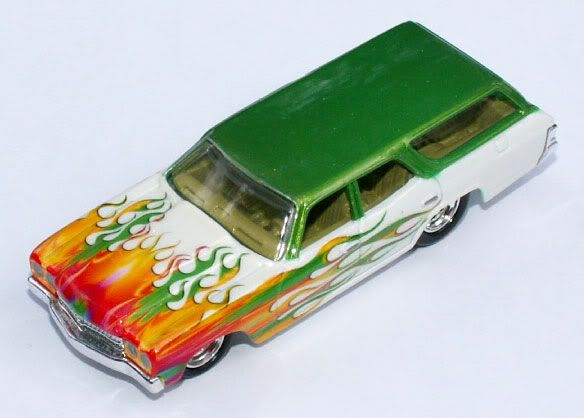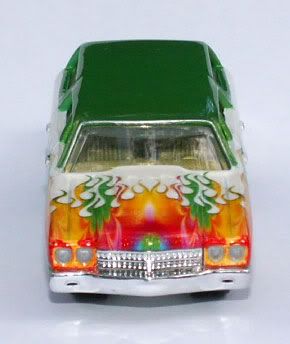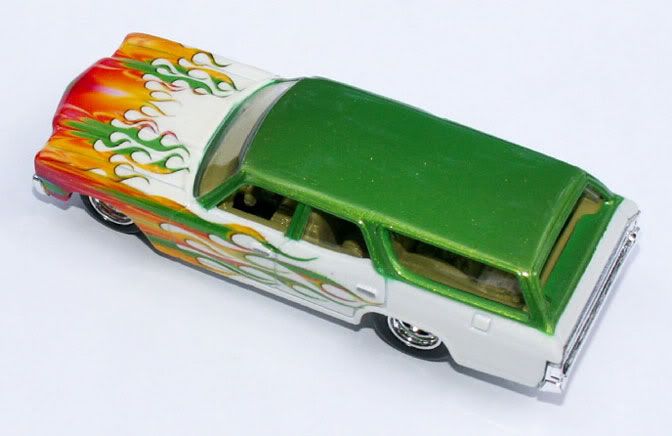 scroll down for 2 more,