The Mailman has been dropping off boxes of '69 Camaro's this week.
Here's the first four that are going along with all the other Custom NASCAR Chevy's I'm making up for Bud.
Lots of Collectors like the HW '67 Camaro but it just doesn't have enough body detail or definition for me.
These '69 Camaros, both Convertible and HardTop are a whole other story with sharp crisp form and a look of realism.
They are well cast in excellent detail down to the Headlight louvers and Taillights.

Filed free of all imperfections, window openings filed smooth and wheel wells cleaned out.
Then everything gets sanded out with 220 and rubbed down with #3 Steel Wool.
Primered, and then Roofs are shot their respective colors.
Roofs are InterCoat Cleared for taping, taped, and then the bodies are shot Shimrin White.
Decals applied, Headlight louvers detailed and Taillights painted.
Cleared with House Of Kolor Urethane Enamel and a dash of Sparkle Gold Pearl Powder.
While I've never cared for the look of FTE Wheels these Custom Cut Chrome Center Caps in 3mm size give the HW rims a kind of Foose wheel look, changing them into a very acceptable new style wheel on a Classic Car.
All Products Used Are Exclusively House Of Kolor, Of Course!!!!!!!!!!!!!!!!!!!!
Clear InkJet Decal Paper from Papilio.com
Tamiya Masking Tape

Tangelo Pearl over Shimrin White,
Halloween color scallops built from scratch in PhotoShop one piece at a time to Custom fit the casting,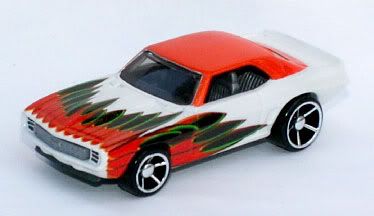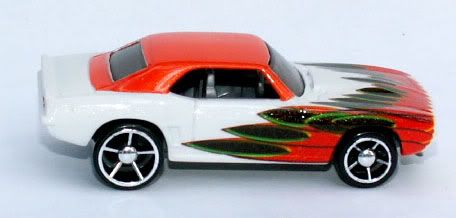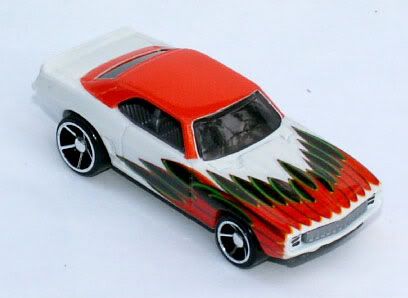 Euro Red over Shimrin White with Red, Yellow, Grn flames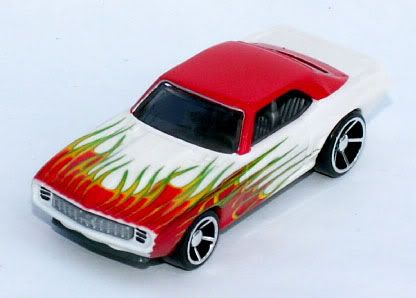 Scroll down for more,