Discussion Starter
·
#1
·
I've started on a build of The Delta Quadrant's 1/1000 Oberth-class kit, and I thought I'd just share some of my initial impressions of it so far.
Here is what you get:
8 solid resin parts with minimal flash, and no warping or bends as far as I can see.
As far as accuracy goes, it's kind of a mixed bag. The saucer, nacelles, and the topside of the big flat deck are beautifully done. The pylons are quite good, but there indentations along the fore and aft edges need to be cleaned up with a few dabs of putty and some sanding -- will post pics soon.
The bottom of the flat deck -- the impulse "box" is wrong. There is supposed to be 2 semi-cylindrical greebles that point forward, like in this photo of the studio model: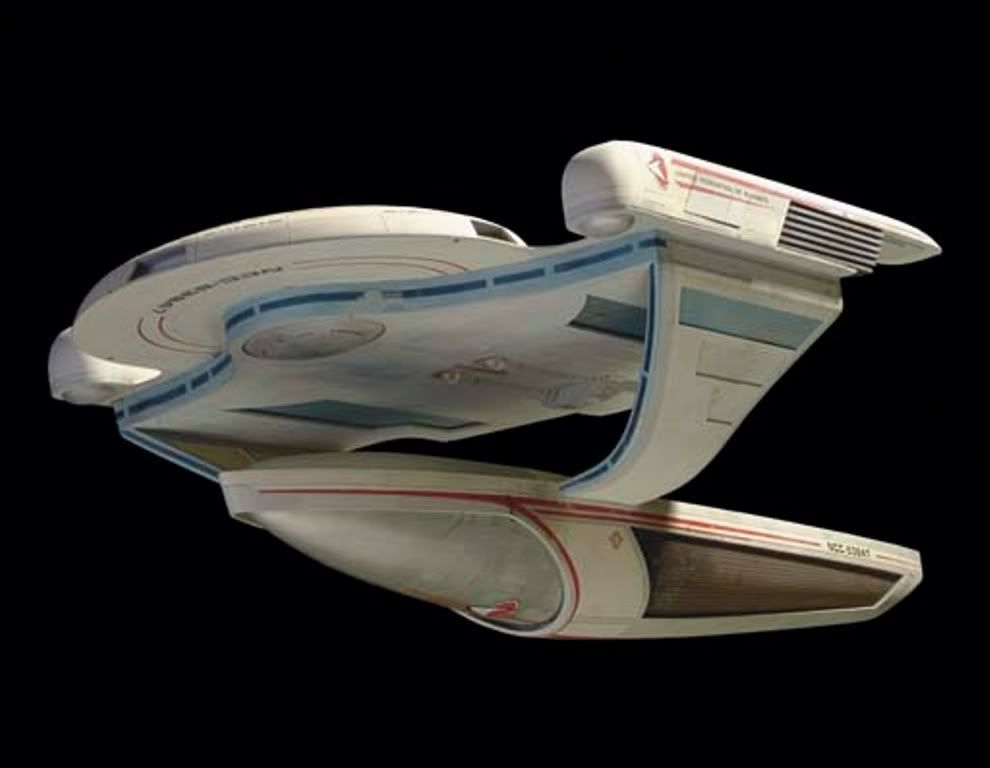 I'm gonna make an attempt to accurize it somewhat if I can find a thin enough stick of plastic.
The edge indentations on the front are fine, but the aft is really soft:
I'll attempt to file out those shapes, but I may end up cutting my losses and smoothing it all over with putty.
The lower hull... is something of a different story.
First off, the edge where the pylons attach is too thin. As you can see in the photo above, it's supposed to be thick enough to allow the red stripe to go continuously along the side of the hull; in the model, it'll be broken up by the pylon.
Secondly, the ridged areas on the lower rear sides are not indented deep enough, or evenly -- they're ok towards the front, but just sort of fade out in the rear. I'm going to file those areas out for a deeper indent -- I'll lose the ridges, but as they say on Earth, c'est la vie
And lastly, the top "hump" is the wrong shape entirely -- it's supposed to be a sort of stretched teardrop shape, not a cylinder with tapered front and back. I'm considering bulking up the sides to make it more rounded, but it's gonna take a
lot
of putty and sanding. Does anyone know of anything else I can use, or is putty pretty much my only option?