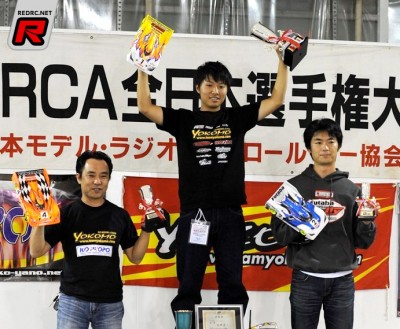 The JMRCA Japanese 1/12th scale Nationals were held last weekend at the Yatabe Arena on their indoor on road asphalt track which has been covered with carpet. In qualifying it was reigning Japanese and 2-time World Champion Naoto Matsukura, driving for Yokomo that took the top qualifier spot ahead* of Corally driver Hideo Kitizawa in 2nd and Daisuke Sakamoto driving the new Kyosho car in 3rd. In the finals it was Naoto that took the win the first two mains to secure the victory ahead of his team mate Murai Masayuki who won the final leg, with Kitizawa taking 3rd overall. In the stock class Naoki Watanabe won for Kyosho in front of Corally driver Murai Kazuma and Gou Matsumoto in 3rd with his Associated.
Modified class overall
1. Naoto Matsukura / Yokomo / Sanwa
2. Masayuki Murai / Yokomo / KO
3. Hideo Kitazawa / Corally / Futaba
4. Daisuke Sakamoto / Kyosho / KO
5. Toshiki Kunitomo / CRC / Sanwa
6. Takashi Kato / Yokomo / Futaba
7. Hayato Ishioka / CRC / Sanwa
8. Yugo Nagashima / Yokomo / Sanwa
9. Kazuki Endo / Kyosho / Futaba
10.Naoki Watanabe / Kyosho / KO


Stock class overall
1. Naoki Watanabe / Kyosho
2. Kazuma Murai / Corally
3. Gou Matsumoto / Associated
4. Kouji Iizuka / Yokomo
5. Kouji Yokoyama / Kawada
6. Yuichi Iida / Yokomo
7. Hideyuki Matsushima / Associated
8. Atsushi Takeshita /
9. Kazunori Watanabe / Yokomo
10.Kunihiro Fujii / Corally


Image: Inside TY [ameblo.jp] / Masami Hirosaka
More...