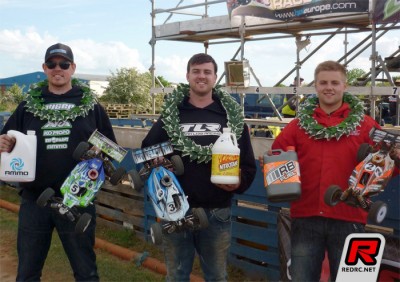 Round 2 of the British 1/8th scale buggy nationals took place this past weekend at Coventry in the midlands. The weather started out not very nice with rain leaving puddles around the track but the club did a magnificent job getting the track ready for racing. Qualifying would be difficult with unexpected showers at times and it was Associated driver Neil Cragg that would claim the top spot ahead of Durango driver Elliot Boots and TLR team driver Darren Bloomfield. Darren would show great patience in the main by following the front two runners around waiting for them to make mistakes. Moving into second around the half way point of the race he would have a lot of ground to make up to catch the leader with not much time left. Closing the gap to Boots with only a couple of minutes to go, a mistake by the young Durango driver would allow Darren to get by and take the win. Elliot Boots took second and Simon Willets 3rd.
Final results
1. Darren Bloomfield – 47Laps in 30′36.657
2. Elliott Boots – 47Laps in 30′40.624
3. Simon Willetts – 46Laps in 30′24.130
4. Neil Cragg – 46Laps in 30′39.473
5. Craig Drescher – 45Laps in 30′1.360
6. Graham Alsop – 45Laps in 30′3.578
7. Chris Doughty – 45Laps in 30′11.101
8. John Holmes – 44Laps in 30′13.600
9. Reece Sawyer – 44Laps in 30′19.950
10.Tony Truman – 44Laps in 30′31.192
11.Bruce Thompson – 43Laps in 30′4.176
12.Ed Kerry – 43Laps in 30′4.412c
13.Matthew Lewis – 43Laps in 30′26.908
14.Jon Hazlewood – 35Laps in 24′22.194

Source: Horizon Hobby UK [horizonhobby.co.uk]
</img>
</img>
More...