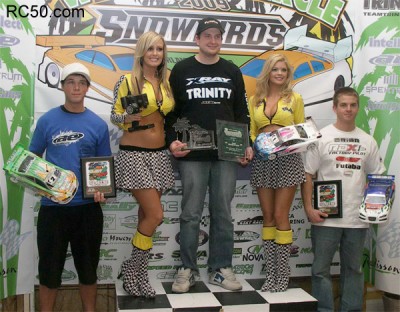 Trinity team driver Paul Lemieux has taken yet more victories at the Snowbirds, as the Xray driver dominated this years proceedings, which took place at the weekend, notching up wins from the pole position in both the 10.5 rubber and Pro Mod classes. The Xray driver had it all his own way in the rubber class to win by over a lap ahead of Austin Harrison in 2nd and TJ Bradley in 3rd. In the Foam class (above) he was pushed hard by young Associated driver Kevin Herbert who ended the race only 2 seconds behind, while Jeff Dayger took the final podium spot in 3rd for Corally. In the other categories there more domination in the 1/12th 10.5 and Mod classes as well as World GT for Associated team driver Mike Blackstock, his team mate Kevin Herbert was victorious in the 13.5 Foam class, Donny Lia won 1/12th 17.5, Mike Haynes won 17.5 foam and Jeff Cuffs came out on top in 17.5 rubber.
Full results can be found
here
.
Image: RC50 [rc50.com]
</img>
More...